---
Aboriginal Culture
---
"Do not go where the path may lead,
go instead where there is no path
and leave a trail."
Ralph Waldo Emerson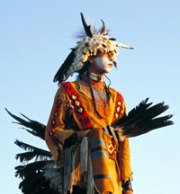 ---
ABORIGINAL CULTURE ACROSS ALBERTA
---
Many people are aware of the fascinating history behind Canada's First Nations and would like to know more about their traditions, daily life and the impact of the arrival of the Europeans to Canada.
Experience their past up close by visiting the many aboriginal cultural sites Alberta has to offer. You will be amazed at how the past comes alive through exhibits, displays, demonstrations and historical sites across the province. Find one near the location you will be visiting! Let's begin with the Rockies...
---
BANFF - LOCATED IN BANFF NATIONAL PARK
---

Traditions and Artifacts of the Blackfoot Nation

Location: Cascade Gardens, at the end of Banff Avenue
Come to Banff and experience first hand the traditions of the Blackfoot Nation way of life by visiting the Blackfoot Tipi located at the end of Banff Avenue near Cascade Gardens.
Open from June through to September, native interpreters reveal their customs and show artifacts which served them well as they fought to survive in the rugged terrain of the Rocky Mountains. On Tuesdays at 12 o'clock you can enjoy a rare drum and dance show.
Photo: Marcel Finnigan
---

The Buffalo Nations Luxton Museum

Location: 1 Birch Avenue, Banff, Alberta. The Museum is located along the Bow River across from Banff Central Park in the townsite of Banff.
The Buffalo Nations Luxton Museum gives you insight into the new world many Europeans found when they first arrived to Canada's plains. Uncover the many rituals and ceremonies of aboriginal culture typical to the Indians of the Northern Plains and Canadian Rockies with informative displays and crafts.
Learn more about how the natives followed buffalo herds and other signs of Mother Nature to not only survive but thrive in the harsh environment of the Rockies and plains of Alberta.
Guided tours are offered to the general public. Admission.
Summer Hours: 11 am–6 pm, May - early October
Winter Hours: 1 pm–5 pm, early October - April (Closed Christmas day)
Ph: 403-762-2388
Photo: Marcel Finnigan
---
WESLEY FIRST NATION-STONEY TRIBE RESERVE-KANANASKIS AREA
---

Nakoda on the Lake Spa Lodge and Conference Centre

Location: Nakoda on the Lake is situated on the Wesley First Nation - Stoney Tribe Reserve on the 1A Highway between the towns of Morley and Exshaw.
Situated on the beautiful Chief Hector Lake is Nakoda on the Lake. This mountain retreat is famous for its Sunday brunches which offer dishes from around the world with a mountain twist. The traditional, rustic guest lodge has 47 intimate guest rooms as well as a conference centre and meeting rooms which can host groups up to 250 people.
This is where my wife and I chose to celebrate our wedding and our friends and family still today tell us they will never forget the majestic mountain views and the terrific bison. Aboriginal culture? If you are lucky, you may even catch a Stoney dance and song performance... a real treat!
Sunday Brunch usually begins in April. Reservations are advised. Please call 1-877-881-3949 x 308
Website: http://www.nakodalodge.com/
Photo: Marcel Finnigan
---

The Stoney Nakoda Resort & Casino
Location: The Stoney Nakoda Resort & Casino is located on the Wesley First Nation - Stoney Tribe Reserve at 888 Nakoda Way, Seebe, Alberta.
Just 30 minutes west of Calgary and neighbouring the beautiful Kananaskis Country is the new Stoney Nakoda Resort & Casino with a variety of popular gaming, exceptional dining and beautiful accommodations and more.
A beautiful hand-painted teepee village greets you as you approach the casino and hotel. Inside, poker & slot tournaments and table games await guests. Special features include Seniors' day trips, Loyalty Express Program and bus tours.
Complimentary Shuttle service is offered to and from Banff and Canmore on Fridays and Saturdays.
Photo: Courtesy Stoney Nakoda Resort & Casino
---
SOUTHERN ALBERTA
---
Head-Smashed-In Buffalo Jump
World Heritage Site
Located 18 kilometres (15 minutes) north and west of Fort Macleod, Alberta on secondary Highway #785 which is paved.
GPS Coordinates:
49 degrees 42 minutes 30 seconds North
113 degrees 39 minutes 7 seconds West
This site is one stop you won't want to miss as far as Aboriginal culture goes. Located on spectacular cliffs that served as a buffalo jump for generations, this sacred place to the Blackfoot People offers spectacular panoramic views of where the foothills of the Rocky Mountains meet the great plains for which western Canada is famous.
It was declared a UNESCO World Heritage Site in 1981 because of its cultural, archaeological, and scientific significance. While visiting the large and newly renovated interpretive museum, you will experience first-hand one of the world's oldest, largest, and best preserved buffalo jumps. On our most-recent visit, archaeological evidence had just been recovered that leads us to believe that aboriginal peoples of the plains had made their home here for far more than the once believed 5,500 years! Aboriginal culture at its best! Five Stars!!
Photo: Michael Stalder
---
WRITING ON STONE PROVINCIAL PARK - ÁÍSÍNAI'PI HISTORIC SITE
---
Áísínai'pi National Historic Site of Canada
Nominated World Heritage Site
Located approx. 100 kilometres southeast of Lethbridge, Alberta.
GPS Coordinates:
49°4′55″N 111°37′1″W / 49.08194°N 111.61694°W
Writing on Stone is kind of a hidden gem - often overshadowed by the Canadian Rockies located just a few hours away. What makes this park and historic site so stunning? Its beautiful and unique landscapes along the Milk River provide a backdrop to the Blackfoot culture that is fascinating.
This site has been nominated as a World Heritage Site in an attempt to not only protect but to showcase its beauty and historical importance with relation to the Blackfoot people and North America's past.
Come and visit the badlands and grasslands of southern Alberta and discover the famous petroglyphs and pictographs found on the craggy sandstone cliffs. Evidence of the 8000 years the Blackfoot tribes lived togther with nature as their largest threat and greatest provider.
Many visitors like to camp here, go birding and wildlife watching. There is plenty for families to do - whether you are hiking the Hoodoo Trail, playing on the beach, or kayaking on the Milk River, you are sure to have a fun-filled stay.
For more information about Writing on Stone, visit albertaparks.ca or travelalberta.com to help you plan your stay!
---
CENTRAL ALBERTA
---

The Rocky Mountain House National Historic Site
Location: 6 km west of Rocky Mountain House on Highway 11A.
In 1799 the North West and Hudson's Bay companies set up trading posts at Rocky Mountain House where various aboriginal tribes traded their furs for goods like lidded copper kettles and wool blankets.
Come and discover the history of such trading posts at the Rocky Mountain House National Historic Site, situated at what was the end of the fur trade line on the North Saskatchewan River. It was also here that Canada's explorer, fur trader and mapmaker, David Thompson set out to find a route to the Pacific and with that a pass across the Rocky Mountains.
Aboriginal culture comes alive through role-playing and demonstrations your children will enjoy - and remember!
Photo: Courtesy Travel Alberta
---