"The Olympics are a wonderful metaphor for world cooperation, the kind of international competition that's wholesome and healthy, an interplay between countries that represents the best in all of us."
John Williams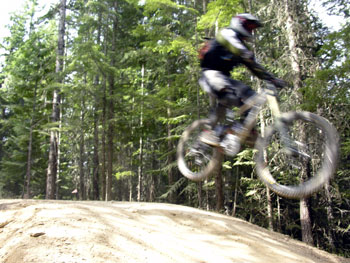 Mountain Biking at Whistler, BC
Mark Bakker

---
---
DISCOVER THE MOUNTAIN MAGIC OF WHISTLER BC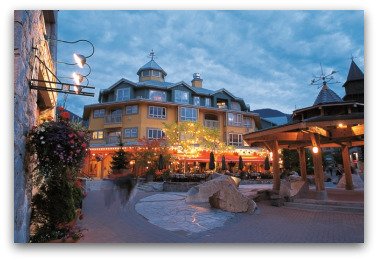 The Village of Whistler BC
Photo: Tourism BC

Located just two hours from Vancouver, the mountain village of Whistler, BC is a great place to begin or end your mountain experience! Why not fly into Vancouver, do a little sightseeing and before you take the train through the Rockies to Jasper, make your way to this world-famous resort!
This mountain getaway has caught the eye of many celebs and regular folk alike and is a real treat for those of you who love the great outdoors. Situated in a breathtaking valley of the Coastal Mountain Range,
Whistler
is a magical place with great skiing, dining and accommodations to suit anyone's tastes. You will love the mountain architecture in this pedestrian village. With its unique shops and romantic setting, you'll love going for a stroll and discovering everything this mountain village has to offer.
---
---
THE WORLD OF OUTDOOR ACTIVITIES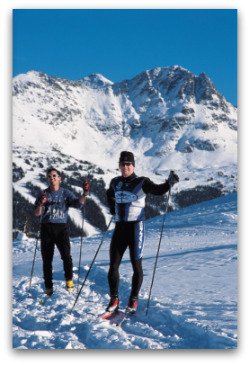 X-Country Skiing in Beauty
Photo: Tourism BC/Tom Ryan

There is nothing like the feeling of skiing or boarding into a bowl of fresh powder! The views are amazing... almost as unforgettable as the thrill of exploring the mountains.
Although Whistler is famous for its downhill skiing at Whistler and Blackcomb Mountains, you will also enjoy the great cross-country and heli-skiing. Or maybe you'd like to spend an afternoon ice skating, snowmobiling or even dog-sledding.
And did I mention - Whistler boasts the most reliable snow conditions! End your day with a romantic sleighride and a dip in the hot tub.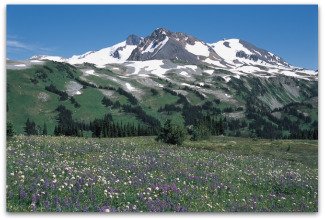 Wildflowers in Singing Pass
Photo: Tourism BC/Tom Ryan
But wait - Whistler is not only for winter-enthusiasts! It really is a destination for any time of year. In the summer months you can choose from a variety of activities such as world-class golf, great mountain biking as well as hiking, horseback riding, canoeing, kayaking and fishing.
Want to hit the slopes but can't come in the winter? Glacier skiing is a great option!
The surrounding area is also popular for outdoor pursuits like hiking, biking and inline skating with some great trails.
If the beach or boating is more to your liking - you won't be disappointed! Pack a picnic lunch, go sightseeing and make most of your time.

---
---
2010 VANCOUVER OLYMPICS


Olympic Flame
Photo: Marcel Finnigan

The
2010 Vancouver Olympics
are happening now, and, as you can imagine, everyone is hard at work as Vancouver and Whistler host the world!
Did you know that Franz Wilhelmsen, the person responsible for introducing skiing to Whistler, had a dream that Whistler could one day host the Olympics? Well, that dream is coming true! Come and discover the area for yourself before the crowds arrive!
Whistler is playing host for three major competitions: Alpine Skiing events on Whistler Mountain; Bobsled, Luge and Skeleton events at the Sliding Centre on Blackcomb Mountain; and Nordic, Biathlon & Ski Jumping Competition events in the Callahan Valley.Whistler is also hosting the Paralympics which include all the Alpine Skiing events as well as the Biathalon and Cross-Country events.

---
---

THE WORLD OF BLOGS
Looking to keep up with what is going on in Whistler? Visit the Whistler Outdoors Blog to read up! Make Whistler BC part of your next vacation to Canada!