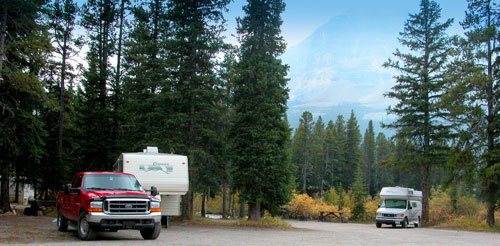 Marcel Finnigan


LOOKING FOR CAMPGROUNDS TO SUIT YOU?

Here are some links to the campsites located in the moutain parks. You can find information on location, when they are open, facilities, firewood for sale, maps and of course ways to reserve that very special spot.


A WORD ABOUT FEES

I just want to let you know that reservation fees are usual and non-refundable. Changes in reservations are often possible but come at a fee as well.


PARKS CANADA CAMPSITE LINKS

CAMPING: BANFF NATIONAL PARK

CAMPING: JASPER NATIONAL PARK

CAMPING: YOHO NATIONAL PARK

CAMPING: KOOTENAY NATIONAL PARK

CAMPING: WATERTON NATIONAL PARK


Parks Canada has started a NEW Campsite Reservation Service in 2007 for its campgrounds in participating national parks. In the past it was not possible or very difficult to reserve, so I think you will like this great new service.
You can now make reservations on-line at www.pccamping.ca or by calling 1-877-RESERVE (1-877-737-3783). This service is available on-line (www.pccamping.ca) 24/7 or by telephone (1-877-RESERVE) from 7 am to 7 pm local park time.
For International Visitors:
Phone: 1 514 335-4813

For service for the Hearing Impaired:
Phone: 1 866 787-6221 (TTY only)

For more information about this service click here:

ABOUT PARKS CANADA CAMPGROUND RESERVATION SERVICE
Or to make a reservation click here.


OTHER BEAUTIFUL MOUNTAIN CAMPSITES


CAMPING: MOUNT ROBSON PROVINCIAL PARK PARK
Mount Robson Provincial Park is situated in British Columbia and is managed by BC Parks, not Parks Canada. Click here for more information on making reservations at Mount Robson Provincial Park.
Or click here to make a reservation.


CAMPING: CANMORE AND KANANASKIS

Kananaskis Country consists of 8 provincial parks and recreation areas with various recreational uses and facilities. The above link will provide you with information on the following areas of the Kananaskis:

1. Bow Valley Provincial Park
2. Barrier Lake / Ribbon Creek
3. Sibbald
4. Elbow River Valley
5. Sheep River Valley
6. Highwood / Cataract
7. Spray Lake
8. Peter Lougheed Provincial Park

Parts of the Kananaskis are accessible by Canmore, the small mountain town located between Banff and Calgary. Canmore itself, although once part of the early Banff National Park, is not part of a park today. The Canmore Nordic Centre is part of Kananaskis Country as is Spray Lake, both within very close proximity to the townsite.