"One cannot think well, love well, sleep well,
if one has not dined well."
'A Room of One's Own', Virginia Woolf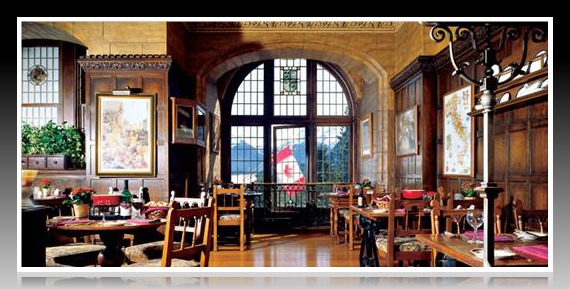 Photo courtesy Fairmont Banff Springs


---
GRAPES WINE BAR - BACKGROUND INFO
---
A few years ago there was a silent auction at my children's school. It was one of the yearly fundraisers and a little treat for kids and parents alike because you just never know what you might find. On this particular night there was something special that caught my eye: a gift certificate for a night's accommodation at the Fairmont Banff Springs Hotel.
I was especially interested in this silent auction item since my wife and I were looking forward to celebrating our 10th wedding anniversary. Of course, I bid and won! (I was not about to let this slip through my fingers!!) What a perfect location to celebrate and reminisce 10 years of marriage. Not only that, but on our wedding day 10 years ago, we were fortunate enough to receive a remarkable gift from Fairmont: the Presidential Suite in the Banff Springs Hotel. From the jacuzzi tub to the huge bed - it was a beautiful suite with stunning views. And who can forget the bubbly that welcomed us…
---
ABOUT THIS UNIQUE EXPERIENCE
---
To start off the evening, we decided to have dinner at the very quaint little spot known as the Grapes Wine Bar. In 1984, when extensive renovations were being done to the Banff Springs, the faux ceiling in this area was removed and what was revealed? Beautiful ornately engraved grapes were discovered in the borders of the walls and thus the concept of a wine bar. (By the way, upon doing some background research, I found it very interesting that this wine bar opened on May 24th, which happens to be my wife's birthday!)
We made ourselves at home at one of the window tables – I say "at home" because the place is tiny – and it is the size that makes the experience seem so fanciful and intimate. On that evening we decided to have the Cellar's Fondue for two – and it was quite exquisite with a nice bottle of wine. We dipped and ate and ate some more, while sipping on wine – with neighbouring diners commenting on the food and décor from time to time! For dessert my favourite: New York Cheesecake. Need I say more?
---
CHOOSE SOMETHING JUST FOR YOU
---
I was just glancing at the Grapes Wine Bar menu to remind myself of their tantalizing dishes before writing this article, and they do have one meal in particular that I would really enjoy: the Honey-Lavender Crusted Rack of Lamb with buttermilk mashed potatoes and a medley of seasonal vegetables. This bar specializes in Canadian wines, so come and discover what Canada has to offer! There is something for everyone at this little
insider tip
! From the diabetic – to the vegan – they have you covered!
---
MAKE IT A DATE!
---
HOURS OF OPERATION
Open daily from 6:00 p.m. to 10:00 p.m. (Subject to change, so please call first.)
DRESS CODE
Resort casual (ripped denim or exercise wear not acceptable)
RESERVATIONS
Unfortunately, reservations are not accepted. Get there early as seating is done on a first come first serve basis.
If you'd like to take a look at their menu, click here.

---
GRAPES & WINE BAR

THE FAIRMONT BANFF SPRINGS
405 Spray Avenue
Banff, Alberta
Canada
Tel:(403) 762-2211

---