I am on a mission to find cool souvenirs. I know... most souvenirs are soooooo
un-cool
, but this just makes me even more ambitious. Like our six year-old daughter says, "I like a good challenge!"
So, let's brainstorm for a minute - what does the average traveller want in a souvenir...
light-weight
easy to pack (or have shipped)
represent the area it comes from
different (but in a good way)
interesting/unique
within budget (!!)
BONUS: it can actually DO something
20
+
cool
Souvenirs
TO
TAKE
HOME
Okay, we have to try to get away from those tacky t-shirts and think more in the direction of fun. Let's throw some ideas around...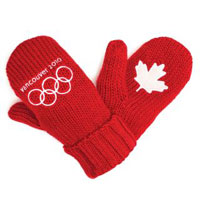 Hbc's Torchbearer
Red Mitts
Photo: Hbc
These famous red mitts can be seen every where! As a result - I have heard that they are very hard to get your hands on!!

I have chosen these as a great Olympic souvenir because they are bright red - and when holding a snowball you have the colours Canada is famous for red and white!

On the backside of the mitts, there are the Olympic rings and Vancouver 2010 in white. On the palm side there are - what else - white maple leaves! The Canadian torchbearers are wearing these mitts while on the torch relay - hence the name.

You can buy these beauties from Canada's most historic company the Hudson's Bay Company or Hbc.

Caution: when you wear these mitts you just have to cheer "GO CANADA GO!", even if you aren't Canadian!!

2. Rocky Mountain Soap Company's
Gift Collection


Do you get
Vacation Withdrawl
? My wife does. She starts dreading the stresses of home about 2 days before we have even left our holiday destination. Why not take a little bit of the relaxation you felt here in the Rockies home with you?
A
gift collection
is the perfect choice for those who have busy lives back home. This treat brings together some nice essential items like
a bar of soap, some body butter and some bath salts
. Some collections even have a lip care product for those cold and dry winters. All of the products are made with resources straight from nature.
You can find locations in Banff (Banff Ave) and Canmore (Main St) as well as Edmonton, Calgary, Winnipeg, Vancouver and Victoria. Don't have any room left in the suitcase? You can shop online from their website and have it shipped to you!
3. Canadian Pacific Vintage Art
Vintage art has a way of pulling you back into a simpler time and place, and these do just that. Canadian Pacific Vintage peices are simple yet elegant, and the bold colours are striking. No wonder you see them in the best hotels.

You can buy the posters framed or put them in a tube and have them sent. This particular image is of the Canadian Pacific with its scenic dome as it passes through the Canadian Rockies. A very popular way to travel through the mountains in the last century! You may even choose this mode of transportation today for a trip that isn't so much about the destination - but rather the journey!


It has been called the rainbow captured in a glacier,
Glacier Pearles
, with their aqua-green pearly iridescence and sheen of various pinks, yellows and blues, have fascinated people from all over the world. Although this treasure does not come from a glacier at all, but rather the
abolone shell
, its colour will remind you of the
glacial ice
you left behind. And better yet, you can wear it without it melting! You can find these at a number of souvenir/gift shops throughout the Rockies. There is always a variety of styles to pick from such as pendants, broaches, pins, bracelets etc. Our daughter really liked the dragonfly and of course the butterfly that she can even admire in the cold winter months. Visitors enjoy the moose, grizzly or polar bear!

Frosted-Glass Inukshuk
The inukshuk or inuksuk (pl. Inuksuit) has served as a marker or landmark for the Inuit in a land beautifully barren and white. It has now become a symbol of the Inuit culture and is very popular in Canada. So popular in fact that it is part of the 2010 Winter Olympics logo to welcome the world to Vancouver and Canada... or is it?

Actually, although the word inukshuk means person substitute, it is the inunnguaq that really resembles a person standing on two separate legs, whereas the inukshuk stands on a single base.

Unfortunatley, the inukshuk is the only known term in the average souvenir shop and so, if you would like to take home this unique-looking treasure, you will have to ask for an inukshuk - which, incidently, is no longer only made out of rock! I have seen chocolate, glacier pearle, slate and frosted-glass versions! It also often adorns all sorts of jewelry and trinkets. I have even managed to find a "Build Your Own" Inuksuk kit. Something the kids will love!

6. Historic Hudson Bay Company
Multi Stripe Point Blanket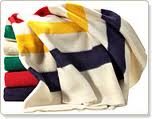 Hbc's Multi-Stripe
Point Blanket
Photo: Hbc
This blanket can bee seen in museums, historic sites and history books - not to mention
Canadian bedrooms!
A favourite Canadain winter souvenir has got to be the "historic" Hudson's Bay Company Multi-Stripe Point Blanket by Hbc. Starting from $275.00 CDN - this is by no means a steal - but boy is it toasty warm on a cold winter's night - and it looks good too.
The history of this blanket goes way back to the times of the fur trade in Canada. This was one of the Hudson's Bay Company's staple products that has stood the test of time. To read more about the history of the HBC Point Blanket, click
HBC Heritage.

If you don't want to spend so much - get the same general idea with the Hudson's Bay Company Multi-Stripe Caribou Throw by Hbc starting from $150.00.
For the little ones on your list, you can even get the baby version - which is for us - so little and so funny!
You can purchase this blanket online at (also known as "The Bay" here in Canada) and share in some of Canada's past.
Visit this page again to see what my next cool souvenirs will be...
---