Scenic Drives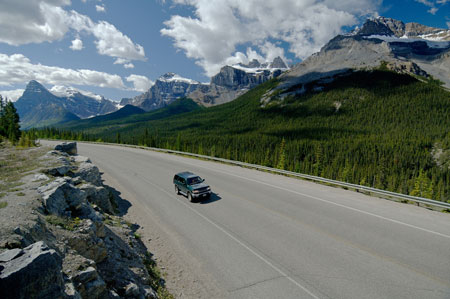 Driving the Icefield Parkway - Photo by Scott Rowed


SCENIC DRIVES
Are you traveling with your own wheels? Whether you are on the road with a rental car, a motorhome or your own vehicle, there are a number of scenic drives you can take to allow you to see the most interesting spots you won't want to miss. Design your own tour by picking and choosing from different aspects of the trip. Some drives can be a half day tour or a full day tour, depending on your time and desires. Others can be a made into a week or longer! If you would like to share your scenic drive through the Rockies with our readers, just click here.


---

View from
Sulphur Mountain
On this drive around Banff you will be visiting many of the attractions in and around this beautiful and cozy mountain town. Whether you are looking for some relaxing time in the mountains or an informational/historical visit - this tour has it all. Design it to fit your taste - and schedule. This tour is a half-day tour (with the option of making it a full-day tour) and provides you with time to take a few pictures and capture the sights and sounds forever in your memory. Read more...

---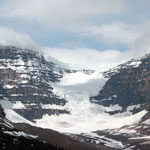 Snowdome Glacier
Columbia Icefield
Enjoy one of the most scenic highways in the world! This is my favourite trip in the Rockies. The scenery is stunning and the cherry on top is a walk on the Athabasca Glacier. The experience of getting out onto a glacier in a Snocoach is something you won't soon forget.
The Columbia Icefield Tour will take you through five river valleys, the Bow River, Mistaya River, North Saskatchewan River, Sunwapta River, and Athabasca River Valley* and cross over two mountain passes, Bow Summit and Sunwapta Pass. On this driving tour you will be traveling through both Banff and Jasper National Park. This tour is a full-day tour beginning in Banff and ending in Jasper. If time is of concern, there is also the round-trip version beginning and ending in Banff. Bring your camera and of course an empty water bottle for a taste of some clear, crisp and cold glacier water! Read more...
*Tour to Jasper only, not seen on Banff round-trip option.

---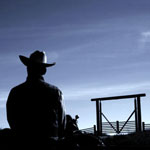 Bar U Ranch
Travel Alberta
This is a great drive if you are planning a trip with a motorhome and want a little adventure and a little history. Canadream has come up with THE GRAND ADVENTURE or as I like to call it THE 12-DAY HERITAGE MOUNTAIN TOUR. This tour includes part of the famous Cowboy Trail with some breathtaking scenery. You can modify the trip as you like. Perhaps you would like to spend more time in a particular area because you like the scenery or the history. It is all up to you. I have included some photos so you can visualize what to expect.

---
ONE-WEEK TRIP: CALGARY - VANCOUVER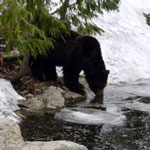 Grizzly on Grouse Mountain
Dominik Wegener
Hi! My name is Dominik and I am from Germany. I have just returned from spending 10 weeks in Canada and would like to share some highlights with you. The majority of my stay was spent in Canmore attending a language school, making friends and touring the local sights. At the end of my stay in Canmore, I thought it would be nice to make a one-week trip to British Columbia and the West Coast. I contacted Marcel and together we built the following itinerary. Remember that this itinerary is based on my personal interests and time-frame but I am sure anyone could adapt this to make a great trip! Read more...

---
Share Your Story About
Great Tours Through the Canadian Rockies!

NOW IT'S YOUR TURN!



Have you embarked on any great tours through the Canadian Rockies that you would like to share with our readers? Which route did you take and why? What were the highlights? By rail, car, motorcoach or motorhome - we'd love to hear about your experience on how you made your dream vacation a reality!
Return from Scenic Drives to Home