"Be still within and know thyself."
Swami Gyanananda Saraswati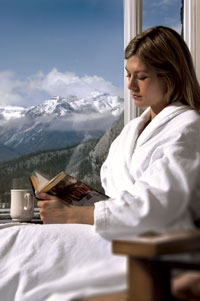 Relax at the Willow Stream Spa
Fairmont Banff Springs


...in
2005
33% of Canada's leisure vacationers made their getaways with spas
in mind.
AFTER ALL THAT SKIING OR SHOPPING...
SPAS TO THE RESCUE!


Thinking about a "spa vacation"? The Canadian Tourism Commission states that in 2005, 33% percent of Canada's leisure vacationers made their getaways with spas in mind. Can you imagine what a spa vacation would be like? No more running here, running there, get the phone, answer that e-mail.


Instead you can opt for a hot stone massage and some aromatherapy. And believe it or not, this idea of pampering and total relaxation for both the body and soul is appealing to more and more men, yes, MEN! Consider booking in as a couple after a day of exploring the mountain parks. Book a package deal or arrange it yourself - but plan ahead - spas are popular and in demand!

The popularity of spas here in the Rockies is nothing new. Take Banff National Park as an example; its creation was a result of the discovery of a natural hot springs by three railworkers workers looking for riches in the ground. What they found was not exactly silver or gold... but it was the beginning of something big! Canada's first national park started with the idea of healing waters and relaxation. Things have come a long way in the last 100+ years... come and take a look!


CANADIAN ROCKIES


KANANASKIS

CANMORE/HARVIE HEIGHTS
BANFF
LAKE LOUISE

WATERTON

COLUMBIA VALLEY/PURCELL MOUNTAINS

PANORAMA



ARTICLES ON SPAS

ALBERTA SPA VACATIONS JOURNEY AROUND THE WORLD

Discover the exotic past of spas! Experience how these age-old traditions are continuing on, offering you healing treatments in the Canadian Rockies. Spa Vacations are in!

GOLF AND SPA GETAWAYS: LIVE BEST OF BOTH WORLDS

World-class golf and spa all within walking distance! No, it's NOT just a dream!! Alberta has a lot to offer in the areas of Golf and Spa - especially in the Rockies!

POST HOTEL'S TEMPLE MOUNTAIN SPA:
REJUVENATE AT A MOUNTAIN REFUGE

Read about every last detail as one lucky guy gets to experience first-hand the Temple Mountain Spa in Lake Louise's Post Hotel.