Johnston Canyon Canyon Hike
to the Lower Falls
and Meal
"I would characterize hiking as the best nature-based activity for a lifetime of activity, ... It requires a minimal level of gear. Anyone can hike. You can set your own pace, and you can experience the outdoors on your own terms."
Gregory Miller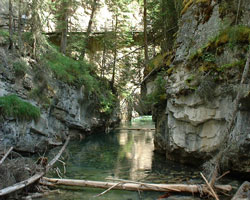 JOHNSTON CANYON: AN EASY HIKE
Johnston Canyon really is a treasure and everyone can have fun doing it! Take a walk into the forest and discover the life of this limestone canyon. Due to what is known as the Hillsdale Slide, Johnston Creek must now cut its way through tons of rock. The swirling clear waters under your feet are mesmerizing. At the end you are rewarded with a refreshing view of the Lower Falls which come crashing down some 15 meters into a green pool. Let the sound of the rushing water embrace you and take you to another place. This little hike to the Lower Falls is 1.1 km (.68 mi) and the terrain is good for a mountain trail. The catwalks have been newly redone and there are good hand railings throughout.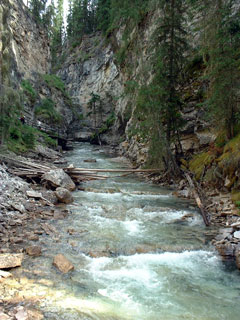 ...Johnston Canyon is
one of my favourite hikes
because it is easy to get to
and makes a
nice little outing.
WHEELCHAIRS, STROLLERS AND WEARY TRAVELLERS
In places the terrain of the second half of the trail is a little steep and rocky for a stroller or wheelchair (remember: what goes up, must come down!) but despite this I often see people taking advantage of this accessible mountain trail.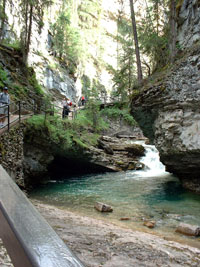 Following the Creek
Please take into consideration that there are a few short steep sections and at times rock corners or tree-roots stick out of the ground which you must navigate. In my experience, a stroller with big wheels is ideal for pushing-ease (I did it just today!!). Don't worry, you can start out and follow the trail and see how it goes. You can always turn around - you don't have to go right to the Lower Falls to get a sense of the place. The trail follows the creek the entire way and there is a catwalk near the beginning of the trail so you don't have to go far to experience this canyon and the exciting cutting waters! There is also a little waterfall not too far in where you can be close to the water without any difficulty.
This is a very popular spot and therefore fairly busy. The trail follows Johnston Creek as it winds through the valley it has been carving over the last 8000 years. It takes about 20 minutes walking at a quick pace to get to the Lower Falls - longer if you would like to meander and take plenty of photos!!

Hungry? There is a nice little restaurant with patio where you can enjoy breakfast/brunch (they also have an all day breakfast for all you breakfast lovers!), lunch or dinner. Go for a stroll and work up an appetite!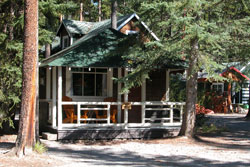 Johnston Canyon Accommodations
ACCOMMODATION
Johnston Canyon does have a campground as well as little rustic cabins if you are interested in being back in nature without pitching a tent. This facility has washrooms and a gift shop for your convenience.
HOW TO GET TO JOHNSTON CANYON
25 km from Banff, take the Trans Canada Highway west until you reach the Bow Valley Parkway. Continue on the Bow Valley Parkway for another 17.5 km (11 mi) until you reach Johnston Canyon. There are two parking lots; the larger parking lot is for hikers and a small bridge across the creek will lead you to the restaurant, gift shop, washrooms and lodgings.
VIEWPOINTS / INTERPRETIVE SIGNS
Signed viewpoints are terrific places to get those amazing pictures that will remind you of your holiday once you are home! Parks Canada has recently put up a series of interpretive signs at a number of viewpoints which will provide you with extra information about the area's history, wildlife, maps, historic personalities etc. These viewpoints are distinguishable by the letter e on the roadside signs. Here is a list of the Bow Valley Parkway viewpoints on the way to this hidden treasure:
VIEWPOINTS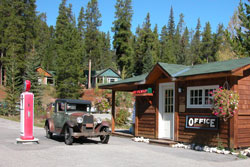 Historic Gas Bar

Backswamp

Mule Shoe

Prescribed Burn

Sawback

Hillsdale

Pilot Pond

A scenic glimpse of Johnston Canyon, Alberta. Video by Alex Robinson




Return from Johnston Canyon to Home