---
WALKING ANCIENT ICE
---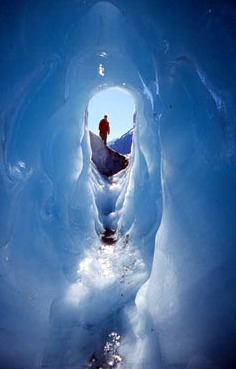 Imagine Yourself
Ice walk anyone? The opportunity to experience a glacier firsthand is really quite something. The Columbia Icefield gets about 7 - 12 metres of snow each year. The snow is compressed and in the process all of the air is squeezed out. It is now no longer snow but rather glacial ice, and this iceflow will then begin to travel downwards. It is on this iceflow that you can have the chance to do a glacier walk.

A glacier is considered a living thing - with its dynamics always changing. From crevasses to mill wells, a glacier can be a very dangerous place to be, so it is always a good idea not to venture out on your own onto any glacial surface.

If you enjoy hiking and would like a first hand experience on a glacier, consider discovering Athabasca Glacier with a professional guide on your visit to the Icefields Parkway in Jasper National Park. Following your ice walk you can find out more about glaciers at the Glacier Discovery Centre, located across from the Columbia Icefield.


---
MEET PETER AND LEARN OF HIS PASSION FOR THE ICE
---
Having lived here in the mountains for most of my adult life, I have met a variety of people with some fascinating pastimes. Peter Lemieux of Ice Walks is one of these people.
As part of our section on profiling adventures here in the Rockies, we interviewed Peter and found out a little more about his passion of giving people the glacial experience of a lifetime.
What first brought you to the Canadian Rockies?

I first came to the Rockies as a dishwasher at the Banff Springs Hotel in 1971, just for the summer. (Whoa, that's forever ago...) However, I had moved west from Montreal in 1974, planning to spend just the winter, getting skiing out of my blood. Well, that didn't work... Thirty years later, and I'm still making my living on skis in the winter and on ice in the summer. And it's still fun!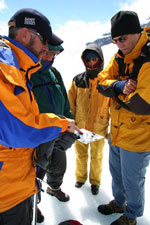 Just ask Peter

How long have you been giving guided ice walks on Athabasca Glacier?
I first gave ice walks in the early '80s as an interpreter for Parks Canada. However, with parks budget cutbacks, I started my own company back in 1985. So I guess you could say that I've been leading trips on the Athabasca Glacier since 1982.
What are the biggest thrills out on the glacier?
Perhaps the best thing for me on the glacier is seeing how it blows people away! It's a landscape that's quite unique and one that most people have never experienced before. Glaciers are intimately connected to almost everyone in western Canada, and many people worldwide, in the form of water that we drink daily.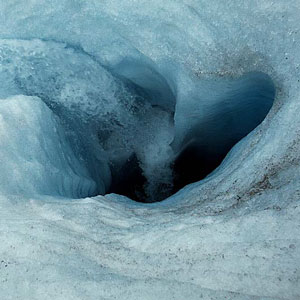 Mill Well
What are the biggest dangers?
Hidden crevasses, millwells, and slippery ice are by far the biggest dangers. Crevasses or fissures on the Athabasca Glacier are often hidden during the early summer and can trap unwary tourists. Millwells are deep holes in the ice, carved out by flowing water and leading to a network of tunnels within and beneath the glacier. And finally, to avoid problems with slippery ice, we provide our guests with crampons or spikes for their boots. They love it!
What kind of people (age, nationality, interests, physical capabilities) go out on your glacier walks?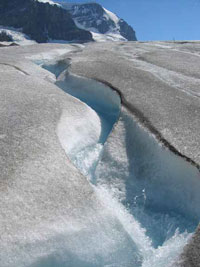 Fresh Meltwaters
We meet people of all ages and walks of life, from all over the world, literally. Most of our clients are from Europe and the U.S. The age range is from five to eighty-five! We recommend that those under seven be seasoned hikers. (Parents, you know who those kids are...) We do operate the trips at about 6500 feet (2000m) above sea level, so sometimes the altitude is noticeable to people, however, we make numerous stops along the way.
What kinds of hikes can you offer an adventure-seeker?
Our guided interpretive hikes take place on Athabasca Glacier and are designed for anyone with a desire to see and discover the world of glacial ice. Our guides are specially trained to ensure that you are capable, properly outfitted and led safely across the glacier. We operate daily from June first to September 30. Here's what we can offer you: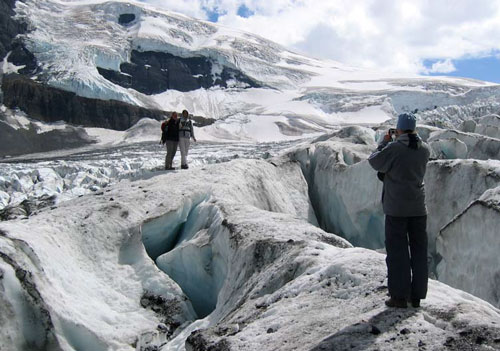 Say Cheese
---
ICE WALK: ICE-CUBED
---
This three to four hour walk explores the lower half of the Athabasca Glacier and offers superb views of glacial features, ice carved landscapes and other alpine glaciers.This hike takes place daily (except Sundays and Thursdays), meeting at 10:40 a.m. and leaving promptly at 11:00 a.m.
Adults: $70.00 CDN (including GST)
Children: 7-16 years, $35.00 Plus 5%GST
---
ICEWALK: DELUXE
---
These hikes are for those who wish to see as much as possible of the world of glacier ice on a full day trip. They are relatively strenuous. Due to snow and ice conditions they may not begin until early July.
This hike takes place Sundays and Thursdays, meeting at 10:40 a.m. and leaving promptly at 11:00 a.m.. Duration: 5-6 hours
Adults: $85.00 CDN (including GST)
Children: 7-16 years, $40.00
Plus 5%GST
---
WHAT DO I NEED
---
What do I need to bring and what can you provide for a glacier hike?
We would recommend you bring the following: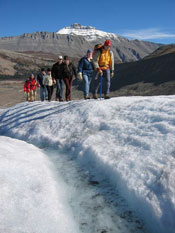 Guided Hike
sunglasses & sunscreen
warm clothes (no shorts please, there is always a cold breeze up there.
water bottle and water
food for longer trips
we also suggest a camera and binoculars (as well as chocolate for the guide!)
We can provide the following (free of charge):
boots, although you may be more comfortable in your own hiking boots (a good lug sole is essential)
crampons (spikes for your boots).
gloves
hat
rain jacket and pants
We can't wait to see you out on the glacier for a truly unique experience you will never forget.
---
INTERESTED IN LEARNING MORE ABOUT ICE WALKS?
---

Or if you would like to book a hike, reservations can be made at:
The Glacier Discovery Centre
(across from the Athabasca Glacier)

OR

Jasper Adventure Centre
Chaba Theatre
604 Connaught Dr
Jasper, AB

Ph: (780) 852-5595 or
Toll Free North America:1-800-565-7547
International Calls: 001 780 852-5595


---