Canadian Rockies Hot Springs

When people come to the Canadian Rockies hot springs and spas are two activities that are always high on the list. Added bonus: You can enjoy hot springs any time of year - especially after a long hard day of hiking or skiing!

The native tribes of the area had known of the water's healing powers for generations and soon the settlers and tourists would benefit from the healing springs. Just take a look!!

---
THE BANFF UPPER HOT SPRINGS
---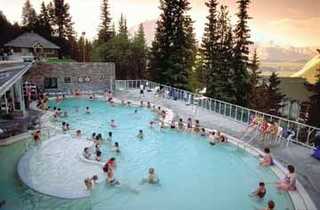 Take a soak at the Banff Upper Hot Springs
Photo courtesy Alberta Tourism
Come and visit Canada's first "natural spa"! Banff became internationally renowned following the discovery of the hot springs in 1883 and Canada's first National Park, now known as Banff National Park, was born. You can take a steamy dip in these very waters at the Upper Hot Springs in Banff and discover its history at the Cave and Basin.
---
RADIUM HOT SPRINGS
---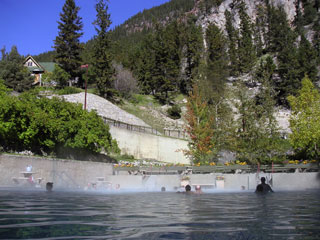 Relax in the beautiful
Radium Hot Springs
Photo by Michael Jennek
Radium Hot Springs, located in Kootenay National Park, is surrounded by the cliffs of Sinclair Canyon, home to the Bighorn Sheep. Unlike the other mountain hot springs mentioned here, the Radium Hot Springs are odourless and have traces of radium to relax you. Why not make an afternoon of it with your family or a group of friends!



---
MIETTE HOT SPRINGS
---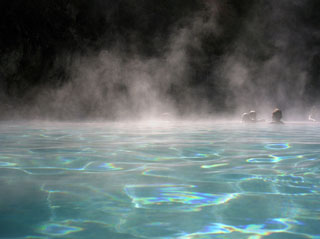 Visit Jasper and Miette Hot Springs
Photo by Michael Jennek
Miette Hot Springs in Jasper National Park is the hottest of the three hot springs mentioned here with an average temperature of 54 degrees Celsius. Take the long scenic road up to Miette and finish off a day of sightseeing in the mountains with a relaxing soak and a nice meal. There is nothing like it!



---