Whether you live in another part of Alberta or another part of the world, chances are you will probably see at least one type of wildlife that is new to you. Seeing wildlife in their natural habitat is a real treat. It really gives insight as to how they live and why they have the characteristics they do.
Nature is a delicate balance of all things, and life here in the mountains is no different. Plants and animals survive in the places that allow them to survive, and with habitats dwindling and species disappearing, that delicate balance is easily thrown off. Therefore, as we are slowly learning in regions all over the earth, it is very important that we ensure that habitats of all kinds are secure for the future.


Let's first take a look at the different environments and habitats the mountains here provide.
LIFE ZONES 101 To make it simple, let's use three regions to describe the different life zones here in the Rockies: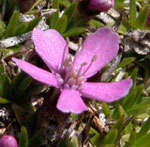 Moss Campion
Marcel Finnigan
Montane:
valleys and lower slopes of mountains
warmer temperatures
windy (warm-wind chinooks eat up snow, leaving light snow cover)
plentiful food in the form of pants and animals

forests of both evergreen and deciduous trees
wetlands
grassy meadows
flowers and bushes
used by people, highways, railways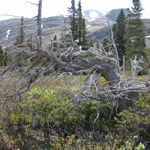 Dead Krummholz
Marcel Finnigan
Subalpine:
high mountain valleys or mountain slopes between the montane and treeline (The highest point you can see trees on a mountain is called the treeline.)
more precipitation - often snow (which is why you can see snow in the summer!!)
evergreen forests and higher "krummholz", German for "crooked wood" - very old and wind-blown evergreens.
short growing season
smaller variety of plantlife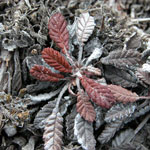 Alpine Vegetation
Marcel Finnigan
Alpine:
area above the treeline, meaning there are no trees able to survive in this harsh environment
coolest temperatures
most precipitation is snow
windy
bare rock or rocky soil
tundra-like meadows
wildflowers
grasses, lichens and mosses
shortest growing season
These life zones represent life at different elevations in the Rockies. Plants and animals have their own preferences as to where their needs can be best met to ensure their survival in this mountainous area. One animal species, or even the lack of one, can often tell the tale on how other animals in the area are doing.



Now on to some of the animals that live in these three life zones, starting at the top and working our way down:

Clark's Nutcracker
Scott Rowed
Alpine:
Mountain Goats
Big Horn Sheep
Pikas
Hoary Marmots
Birds such as the Ptarmigan
Grizzly Bears
Caribou
Subalpine:
Grizzly Bears
Moose
Lynx
Big Horn Sheep
Caribou
Porcupine
Pine Marten
Red Squirrels
Least Chipmunk
Pikas
Mice
Birds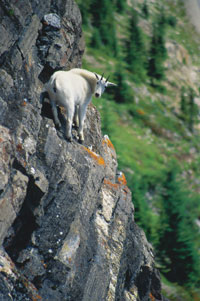 Mountain Goat On the Edge
Photo courtesy
Banff Lake Louise Tourism
Montane:
White-tail Deer
Mule Deer
Elk
Caribou
Coyote
Wolves
Big Horn Sheep
Cougars
Grizzly Bears
Black Bears
Moose
Beavers
Columbian Ground Squirrel
Red Squirrels
Pikas
Mice
Birds
Ready to do some observing of your own? Here are some
tips on wildlife watching
to help you make it a safe experience for all involved.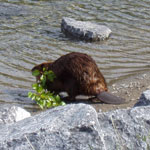 Busy Beaver
Kaori Yasui
If you are interested in seeing a large variety of wildlife that roam our mountains and valleys, make sure to visit the
Banff Park Museum National Historic Site,
located on Banff Avenue in Banff. This museum is the oldest natural history museum in Western Canada, and although the specimens are old (dating back to the 1860s) and no longer alive, you get to see close-up what the new-comers to this country were so interested in discovering. From buffalo to beavers to mountain goats, you can experience an array of wildlife that still make the Rockies their home today.
Interested in geology? You can also get a peek at what life was like in this area before the Rocky Mountains! Take a close look at the coral and sealife fossils, and imagine what it must have been like here millions of years ago when there was an ancient sea.