Banff
Luxury Accommodations
There are only two Banff luxury accommodations on my list. Now, that doesn't mean that the other lodgings on my superior list won't give you a great stay. But if you are looking for something a little out of the ordinary, I think these may be what you are looking for. These two hotels have shops, spas and amenities to make extraordinary wishes come true.



BANFF LUXURY ACCOMMODATIONS




---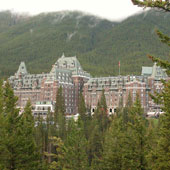 Fairmont Banff Springs
FAIRMONT BANFF SPRINGS HOTEL
405 Spray Ave
Banff, AB
Phone: 403-762-2211
Phone: 1-800-441-1414
Fax: 403-762-5755
Email: bshreservations@fairmont.com
Website: www.fairmont.com
Low Season: $250+
High Season: $500+
The Fairmont Banff Springs is a hotel of historic importance here in Banff National Park and delivers the full package, complete with the best spa, golf and dining possibilities. The Springs offers 778 guestrooms in various designs to suit any guest. Room amenities include alarm clock-radio, cable TV, in-room pay movies and video games, coffee/tea maker, hair dryer, iron and ironing board, high speed internet access. Valet parking available.
---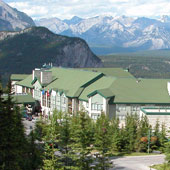 Rimrock Resort
RIMROCK RESORT HOTEL
Mountain Ave
Banff, AB
Alberta Toll Free: 1-800-372-9270
Canada & US Toll Free: 1-800-661-1587
Telephone: (403) 762-3356
Fax: (403) 762-4132
Email: info@rimrockresort.com
Website: www.rimrockresort.com
Low Season: $275 - $875
High Season: $418 - $1220
The Rimrock Resort Hotel is situated on a mountain side with great views of the surrounding area. There are four types of guestrooms to make you feel at home. Room amenities include Aveda beauty products, cable TV, in-room movies and internet games, wireless high speed internet access, radio, tea/coffee makers, hair dryer, iron and ironing board. Hotel amenities include the Primrose Dining Room as well as the Eden Dining Room in addition to the Larkspur Lounge and Divas martini jazz lounge. Enjoy live entertainment in a beautiful atmosphere.
---
THINGS TO ASK WHEN BOOKING A ROOM
Here are a few things you may want to look into when deciding on your accommodation:
Do the listed prices include the 2% Tourism Improvement Fee, the 4% Room Levy Tax and 5% GST (Goods & Service Tax)?
Are the rates based on single/double/triple occupancy?
Is there an extra per person charge per night?
Do children under 16 years of age stay free when accompanied by a parent?
Is there a maximum room occupancy?
Is there a minimum night stay requirement at this time of year?
Is the hotel pet-friendly?
How can I guaranteed my reservation? Is a deposit required?
What is my confirmation number for my reservation?
When do cancellations have to be received to avoid late/cancellation charges?
How much are late/cancellation charges?
When is check-in/check-out?
Remember that rates are based on availability at the time of booking and are subject to change at any time without previous notice.
Return from Banff Luxury Accommodations
to Banff Accommodations