Doing Banff on a Budget?
BANFF ON A BUDGET
HOTELS, MOTELS, INNS & LODGES
Trying to do Banff on a budget and yet want the privacy and amenities only a hotel-type accommodation can offer? Have a look at these!! There are high season, low season and shoulder season rates, so check the dates carefully and if you must stick to a budget, find out when cheaper rates apply.

---

The Arrow Motel
ARROW MOTEL


337 Banff Ave
Banff, AB
Phone: 403-762-4496
Phone: 1-800-661-8310
Fax: 403-762-3577
Email: reservations@bestofbanff.com
Website: www.bestofbanff.com
Low Season: $69+
High Season: $99+
Guests of the Arrow Motel have access to all the facilities at the Ptarmigan Inn.
---

Bumper's Inn
BUMPER'S INN
603 Banff Ave
Banff, AB
Phone: 403-762-3386
Phone: 1-800-661-3518
Fax: 403-762-8842
Email: bumpersinn@telus.net
Website: www.bumpersinn.com
Low Season: $65 - $85
High Season: $101 - $135
This 39-room inn, located on the quiet end of Banff Ave offers rooms with either one queen or two double beds along with satellite TV, coffee makers and hairdryers.
---

Homestead Inn
HOMESTEAD INN
217 Lynx St
Banff, AB
Phone: 403-762-4471
Phone: 1-800-661-1021
Fax: 403-762-8877
Email: info@homesteadinnbanff.com
Website: www.homesteadinnbanff.com
Low Season: $79 - $89
High Season: $139 - $149
The Homestead Inn offers 27 guestrooms with queen and double beds. Room amenities include TV, in room coffee/tea service, hair dryer and mini-fridge. Located right in the heart of downtown Banff, next to the restaurant Melissa's Misteak (famous for their breakfasts!) and close to everything!
---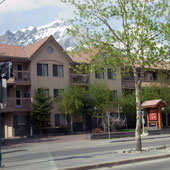 The Red Carpet Inn
RED CARPET INN
425 Banff Ave
Banff, AB
Phone: 403-762-4184
Phone: 1-800-563-4609
Fax: 403-762-4894
Email: info@banffredcarpet.com
Website: www.banffredcarpet.com
Low Season: $74 - $114
High Season: $140 - $174
This inn has 52 guest rooms which include cable TV, coffee/tea makers, mini fridge and air conditioning. Free Wireless Internet and complimentary heated underground parking available. The Red Carpet Inn also has pet friendly rooms! Please inquire.
---
PLEASE NOTE: The prices stated here were at the time of writing and may have changed. These prices cannot be quoted or guaranteed and are merely given to aid you in the planning process.





THINGS TO ASK WHEN BOOKING A ROOM




Here are a few things you may want to look into when deciding on your accommodation:
Do the listed prices include the 2% Tourism Improvement Fee, the 4% Room Levy Tax and 5% GST (Goods & Service Tax)?
Are the rates based on single/double/triple occupancy?
Is there an extra per person charge per night?
Do children under 16 years of age stay free when accompanied by a parent?
Is there a maximum room occupancy?
Is there a minimum night stay requirement at this time of year?
Is the hotel pet-friendly?
How can I guaranteed my reservation? Is a deposit required?
What is my confirmation number for my reservation?
When do cancellations have to be received to avoid late/cancellation charges?
How much are late/cancellation charges?
When is check-in/check-out?
Remember that rates are based on availability at the time of booking and are subject to change at any time without previous notice.
Return from Banff on a Budget
to Banff Accommodations