Banff Park Museum
National Historic Site of Canada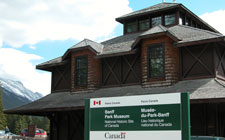 Banff Park Museum
BANFF PARK MUSEUM
What is that funny-looking railway station on Banff Avenue near the Bow River Bridge? It's the Banff Park Museum! Since 1985 a National Historic Site, it is located in the oldest Parks Canada structure in Banff dating back to 1903. It is one of the oldest natural museums in western Canada and renowned not only for its local and foreign wildlife specimens, but also for its unique rustic swiss-style architecture designed by John Stock, a former railway bridge engineer!
What are the differences between a mountain goat and bighorn sheep? You can find out here by getting a close-up look at the specimens when you walk in the door. Although the collection of exhibits date back to 1914 for the most part, it provides the visitor with a good idea about what kind of animals are present here in Banff National Park and allows people to see just how big... or small the animals are! This museum is such a special part of Banff's history, the government has vowed to "protect, preserve, and present the museum for present and future generations." Don't miss this attraction for the very young and very old!!



OPEN
Winter
September, 2006 to April, 2007: 1 pm - 5 pm
Site tours are available 2:30 pm Sat/Sun.
Summer
Open from mid-May to late September: 10 am - 6 pm



CLOSED
Closed December 25-26 and January 1



ADMISSION
Adults $3.95 Seniors (65 and over) $3.45 Youth (6-16) $1.95 Family (2 adults+children-18 and under) $9.90 Group Rates (up to 7 people) $9.90 Commercial Group, per person $2.95 School Groups, per student $1.95 School Groups, Entry and a Heritage Presentation Special Program, per student $2.95



ANNUAL PASS
Adult $9.90 Senior $8.65 Youth $4.95 Family/Group $24.75



HERITAGE PRESENTATION SPECIAL PROGRAMS
Off the Shelf Programs
per group/per Hour of Program Delivery
Please contact the museum directly

Custom Programs, per group
Per Hour of Program Development and Program Delivery
Please contact the museum directly

A family or group is considered to be up to seven people with a maximum of two adults arriving at a national park in a single vehicle or visiting a national historic site together.
School Groups: Students of elementary and secondary schools.
Fees listed are valid from April 1, 2007 until March 31, 2008.



BANFF PARK MUSEUM
National Historic Site of Canada
91 Banff Ave
Banff, AB
Phone:(403) 762-1558
Fax:(403) 762-1565
Email: banff.vrc@pc.gc.ca

Banff Park Museum National Historic Site of Canada