Columbia Icefield Tour
via Bow Valley Parkway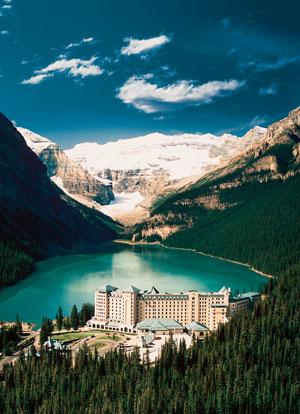 Photo courtesy Fairmont Chateau Lake Louise



BOW VALLEY PARKWAY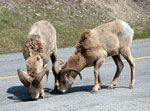 Big Horn on Parkway
Just a few kilometers west of Banff is the junction for the 1A, known as the Bow Valley Parkway. This is a very pretty stretch of road with views of dense forest and, in the summer months, wildflowers. Traffic is lighter here and you have the opportunity to watch the forest on either side of you for wildlife. Big Horn Sheep often come down in search of mineral licks and can often be found on the roadway. Take your time and enjoy the interpretive exhibits on the way.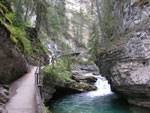 Johnston Canyon
The 1A leads you through the Bow River Valley, taking you on up to the Lake Louise region.
Let's take a look at some of the highlights along the Bow Valley Parkway. First, Johnston Canyon (please take another driving tour for this gorgeous hike leading to two cool and misty waterfalls!), followed by the remains of Silver City (1883-1885), once a historic copper and lead mining town – now a meadow with an interpretive sign.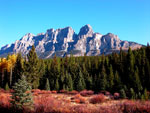 Castle Mountain
Next, Castle Mountain pullout – located a little way past the junction on your right. Here you have a beautiful view of Castle Mountain with Eisenhower Peak and Tee. Take out your camera and get a couple shots. This mountain was for a time renamed Mt Eisenhower following WWII, but after some controversy, it now carries its original name. Just after Castle Mountain you will find another pullout with a parking lot and picnic area. From here you can enjoy the view of Storm Mountain.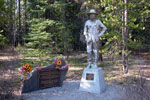 Internment Memorial
Continue to follow the Bow Valley Parkway west and you will come across a spot of historic importance. Once the location of Castle Mountain Camp which confined immigrant Canadians of Austro-Hungarian decent (mostly Ukrainians) during World War 1, today there is a monument and commemorative plaque to record this terrible time in our history. These prisoners were paid very little and used hand tools to make the roadway you are travelling on today, the Bow Valley Parkway. Shortly you will leave the Bow Valley Parkway - hope you enjoyed this scenic route! But first...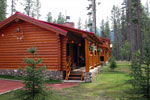 Baker Creek
Chalets
Hungry? At Baker Creek Chalets you can enjoy a coffee and snack at their Bistro (June–August). Another picnic possibility just up the road - Corral Creek. Continue on until you reach a T-intersection, where you will turn left and continue on to the junction for the Trans Canada Highway. Now you must make another decision. A stop at Lake Louise? (Read next paragraph.) Or further west for a few kms to the junction for Highway 93 north to Jasper? (Continue on with JUNCTION 93.)


href=http://www.rocky-mountain-tour-guide.com/lake-louise.html target=_blank>VILLAGE OF LAKE LOUISE AND LAKE LOUISE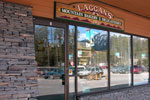 Laggans Bakery
If you are interested in packing along a few snacks, stop by Laggans Mountain Bakery & Deli in the village where you can pick up a soup, a couple sandwiches and a decadent dessert. Spoil yourself! You are on holiday! If you are in need of anything else, there is a grocery store right next door as well as bathrooms. You may also want to check your fuel gauge! Gas stations can be few and far between and you don't want to be caught off guard. Remember - you are not in the city.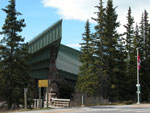 Lake Louise
Interpretive Centre
If you have the time and are interested in the mountain-building process, make a stop at the interpretive centre in the Village of Lake Louise. It is well-done and very informative with interpretive films playing daily on topics varying from bears to life in the park.

By the way, you are now in the subalpine zone – a mixed forest with subalpine, white spruce and lodgepole pine.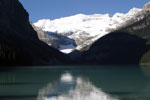 Lake Louise
If you would like to continue on to the lake in Lake Louise, just continue through the two four-way stops and cross over the bridge which goes over the confluence of the Pipestone and Bow River. This road, Lake Louise Drive (5km), takes you up the hill towards Lake Louise. This is of course the location of the famous Fairmont Chateau Lake Louise which looks onto Lake Louise and stunning Victoria Glacier. (Yes, named after Queen Victoria!) Picture stop!!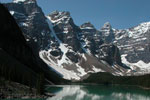 Moraine Lake
(Just as an aside, on the way up to Lake Louise there will be a sign for the turn-off to Moraine Lake Road (12 kms) which leads to the famous Moraine Lake and Valley of the Ten Peaks which were featured on the back of the old Canadian 20 Dollar bill for many years. A short walk from the parking lot leads you up a hill to one of the most spectacular sights. You just won't believe the colour!! Moraine Lake and the Valley of the Ten Peaks really are worth a visit. If you are not going to be in the area again – take advantage of their close proximity! This road is only open in the summer months.)


ON TO JUNCTION 93
Then travel west of Lake Louise, via Highway No. 1. You can then transfer onto Highway 93 North, the Icefields Parkway. Now a few of you may have already purchased a National Park Pass to visit the parks. If you haven't, you will come to an area at the start of Highway 93 North run by Parks Canada, where you can purchase your park pass. It is the user pay system, in which the proceeds go back into our national park system.
TO CONTINUE YOUR COLUMBIA ICEFIELD TOUR CLICK HERE!