CAA and AAA
Emergency Road Service
ON VACATION AND HAVE A PROBLEM?

You never know when you might have a problem on the road. So prepare before it happens!

Imagine the following:


You are coasting through the mountains and realize you have just run out of gas!


You return to your vehicle from your wonderful picnic only to realize you have locked your keys in the car.


You went swimming in your shorts and realize you have now lost your car keys!


You are so busy looking at the beautiful mountain views that you drive over something and get a flat tire.
Believe me, all of these can and do occur - even if you are on holiday!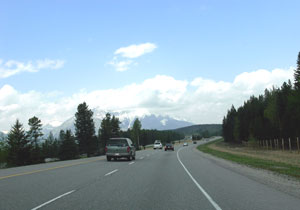 Driving to the Mountains
Gerda Toenz-Berni

ALBERTA AMA MEMBERS
For those of you who are an Alberta AMA member and something like the above happens, just give them a call and let them work their magic. Now, I have been told that sometimes there are fees that apply in rural areas, but seriously, won't you just be glad to have someone help you out?
Alberta Motor Association
Toll Free Ph: 1 800 222-4357
24-hours, seven days a week
CAA MEMBERS FROM OTHER PROVINCES
AAA MEMBERS FROM THE US
AUTO MEMBERS FROM ABROAD
If you run into difficulties on the road, call up
YOUR
auto service in
YOUR
country and, if affiliated, they can call AMA in Alberta and start the process of getting help to you!
Make sure your membership fees are paid in full
before
you leave home. Since Canada is such a vast country and distances are far, you may even want to consider an upgrade to cover you for more extensive emergencies like tows over 5 km! It is worth considering!