Camping in the Rockies - Kananaskis
by L Bennett
(Birmingham, West Midlands, UK)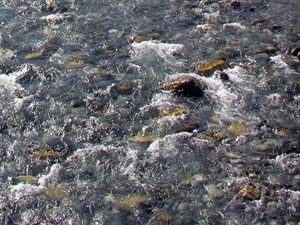 Melt Waters of the Kananaskis
I had the opportunity to go tenting in "Kananaskis Country" which is just west of Calgary off of Highway 1, and south on Highway 40. It was in May and the weather was fresh to say the least! But we did not let that slow us down! My friend and I were well equipped for warm cozy nights in our tent (bring your toques!!) and our days were filled with hikes in and around the many "rocky" mountains.

My favourite hike? Horseshoe Falls - which was really worth the effort!

The sky was so blue and the melting snow and ice from the mountains was running well and COLD! We took many beautiful pictures - some nice souvenirs.

It was a great memory and somewhere I'd love to visit again.
Join in and write your own page! It's easy to do. How? Simply click here to return to My Rocky Mountain Experience.