Castle Mountain Accommodations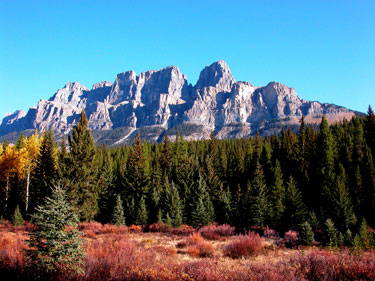 Castle Mountain Colours


"...what we have to do must be done in the now."
Audre Lorde
CASTLE MOUNTAIN ACCOMMODATIONS
Castle Mountain is located between the mountain towns of Banff and Lake Louise in Banff National Park. It is here you will want to stay if you are looking to get back to nature and all it has to offer.


---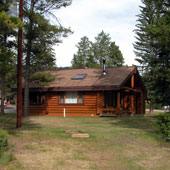 Castle Mountain Chalets
CASTLE MOUNTAIN CHALETS
Banff, AB
Phone: (403) 762-3868
Toll Free: 1-877-762-2281
Fax: (403) 762-8629
Website: castlemountain.albertanetwork.com
Email: castlemountain@albertanetwork.com
Low Season: $150-$225 (one/two bedroom chalets/suites)
High Season: $195-$345 (one/two bedroom chalets/suites/summer cottage)
Considered an ideal getaway, Castle Mountain Chalets are located at the foot of stunning Castle Mountain. With 17 km of National Park cross-country ski trails right outside your door, who could ask for more? The 21 chalets and cabins have equipped kitchens, bathrooms, fireplaces, DVDs and satellite TV. Bedding as well as daily maid service are provided. Resort amenities include a licensed grocery store, self-serve gas, barbecues, laundry facilities, family games room including pool table, steam room and common living room & kitchen area. There is also a free Internet kiosk and limited wireless Internet. Open year round!

---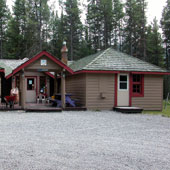 Castle Mountain Hostel
HI CASTLE MOUNTAIN WILDERNESS HOSTEL
Castle Junction (corner of Hwy 93 and Hwy 1A)
Banff, AB
Phone: (403) 762-2367
For Reservations:
Phone: 1-403-670-7580
Tollfree: 1 866 762-4122
Group Enquiries: 1-403-762-4123 ext 25
Member Shared Room
High Season: $23
Low Season: $20
Member Private Room
High Season: $60
Low Season: $58
Would you like to wake up to the freshness of the wilderness? Situated between Banff and Lake Louise across from beautiful Castle Mountain is the Hostelling International Castle Mountain Wilderness Hostel. Stay in one of 28 beds and enjoy their common room with a wood-burning fireplace and large bay windows. Bedding provided, no sleeping bags. Here you are close to all of the outdoor activities you have been waiting for! There is something for everyone, like hiking trails for all levels and the beautiful Bow River for fly-fishing enthusiasts! Nearby are the Castle Mountain Chalets which provide a self-serve gas bar and grocery store. Located at the intersection of Hwy 1A and Hwy 93. Take Highway 1 (Trans-Canada Highway) west to Castle Junction (half way between Banff and Lake Louise). Then take the Hwy 93 exit north. You will see the hostel on the right. Castle Mountain Wilderness Hostel is open all winter, however due to the fact that wilderness hostels are in the wilderness, you should contact the Central Registration Office with any questions regarding your stay.
---
CASTLE MOUNTAIN ACCOMMODATIONS: DON'T BE SURPRISED!!
Remember that Castle Mountain accommodations are open year-round, so take advantage!
A 4% Alberta Tourism Levy and 5% GST are often not included in listed prices and must be added.
Accommodations are limited. Make sure you plan ahead and book accordingly.