Introducing Crowsnest Pass! Travel Alberta has written a charming little article called
Life in the Pits
about this part of Southern Alberta. As you may have already noticed from my own profile pages of the area, this place has that special something people are looking for - nature, beauty and history are all around you for you to enjoy.
---
LIFE IN THE PITS

BY TRAVEL ALBERTA

THE BIG PICTURE

Alberta's southwest corner, a mountain rimmed rocky corridor known as the Crowsnest Pass, once held the largest seam of coal in Alberta. Skeletons of those heady days remain littered throughout the Pass in sleepy little authentic towns like Hillcrest, Bellevue, and Coalman – which some say are on the cusp of another boom due to nearby ski resorts like Fernie and Castle Mountain.

In 2008, National Geographic's Crown of the Continent project - a geo-tourism initiative that highlights places of historical, cultural and geographical significance - launched a stunning map of this area (including B.C. and Montana), loaded with arcane facts and figures. Those maps are available for free from the Frank Slide Interpretive Centre last summer.
CLAIM TO FAME
Frank Slide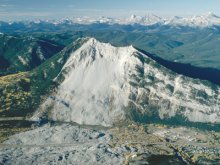 When you drive through the Pass you get a Lilliputian feeling when entering the shadow of Turtle Mountain. The rocks are the size of condos and the slide still looks fresh . . . there's no vegetation, just a 90-ton jumble of jagged boulders that the wind moans through. In 1903, at 4:10 a.m., the entire face of this mountain peeled away, pummelling the town of Frank (pop. 600), killing 92 people. The tales of survival, bizarre warning systems, luck, fate and how those in the mine were spared, are legendary in these parts.

A $1.5-million renovated interpretive centre recently opened that includes four new galleries loaded with lots of local anecdotes, award-winning films, a seismic monitoring system, etc. A new sleep-over program was just launched which includes a guided hike to the top of Turtle Mountain, dinner, breadkfast, movies and a tour the next day of the nearby Bellevue Mine (minimum 15 people, $55 a person).
Bellevue Mine
Snap on your headlamp at the Bellevue Mine and enter a damp Dickensian world dripping with water, sulphuric air and tales of men who toiled down here between 1903 and 1961. Now, during a four-month period over the summer, tourists can take a tour along a 300 m (984 ft) path in total darkness. Discover how 30 men died in an underground explosion that rocked this mine on Dec. 9, 1910. And how in its heyday, a workforce of 500 men extracted 2,500 tons of coal a day.
SPECIAL SUMMER EVENTS HELD IN 2009
June 20, 2009
Hillcrest Mine Disaster 95th Anniversary
Bus tours and guided walks through the town of Hillcrest and its local cemetery will spirit you back to the worst mine disaster in Canadian history.
Now in its fourth year, this long weekend festival is jammed with programs ranging from Karelian Bear Dog demos to guided bird and flower walks, tours of the Allison Trout Hatchery, a miners' picnic and, of course, tours of Frank Slide.
LOCATION
Frank Slide/Bellevue Coal Mine are in Crowsnest Pass, about a 2 ½-hour drive south of Calgary or a one-hour drive west of Lethbridge. Both attractions/destinations could be stand-alone stories or, due to their proximity, both could be covered in a day.