---
Golf in Alberta
---
Golf in Alberta is popular with Albertans and tourists alike.  The golf courses in this province are world-famous and will leave you wanting more.  Let's take a look at a few extra-special spots.
---
MARRIAGE TO A TEE
By: Travel Alberta
---
A day after being married high on a bluff overlooking one of Alberta golf's great treasures, my wife made a confession. She really hadn't heard my personalized vows during the ceremony, the one's I'd sweated over and wanted to be just right.
Instead, while I spoke she gazed over my left shoulder down along the Kananaskis Country Golf Course and watched a carefree Bull Moose splash along the river. It was intriguing, she said in apology. So much for sentimentality, I countered.
Years later it's one of our favourite stories, many of them linked to Alberta golf - a classic tale for the 19th hole. In the Wild West, moments like this are part of the charm: where mountain vistas, unpredictable weather, and wildlife close-ups knit together in a tapestry that's both beautiful and challenging.
In 20 years, I have played many of the more than 200 golf courses in Alberta. Dozens stand out, and when visitors ask where they should go, I have a few suggestions.
One of my first great experiences with Alberta golf occurred years ago while warming up at the first tee of the Waterton Lakes Golf Club, tucked into the province's southwest corner. It was the screams from the 1st green, a mere 320 yards away that caught everyone's attention. They were shrill and urgent - the kind of cries you hear when a black bear butts in, demanding to join your foursome.
That happens from time to time in Waterton National Park, where Stanley Thompson designed the shortish 18-hole course, and where my adrenaline pumps every time I play it. Waterton isn't in the lofty category of Thompson's two masterpieces, The Banff Springs Golf Club, or the Jasper Park Lodge Golf Club, which are kept in immaculate condition and provide a terrific test of golf from the back tees.
---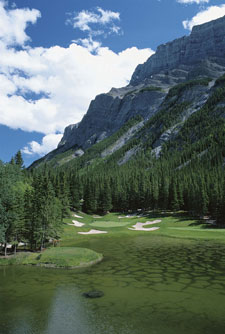 Golf in Alberta pictured here: Devil's Cauldron, Banff Springs Golf Course Photo courtesy Fairmont Hotels
Waterton offers a number of drivable par-4s, some tough par-3s and fabulous scenery. In a word, it's fun. The golfer's real challenge comes in mastering the almost-constant wind, the less than perfectly manicured conditions, and, yes, the wildlife.
Inquisitive bears aside, try and concentrate while seemingly dozens of eyes (elk and deer) study your swing from the stands of trees lining the fairways.
On the flip side I have played the Banff Springs two dozen times and only ever seen one bear. About two years old, brown and crossing the third fairway, it was minding its own business. Nevertheless the proximity sent a chill down my spine.
One hole later the hair stood on the back of my neck again. This time I was on the 4th tee box of the Stanley Thompson 18 (Banff has 27 holes in total). Known as the Devil's Cauldron, the elevated par-3 is ranked one of the Top 100 golf holes in the world. And it's a knee-knocker.
Why? Well, there's the swirling wind, the elevation (think of being at the top of a roller coaster), then the precipitous drop over a glacial-fed lake, to a tiny green 190 yards away. Club selection is tough, but once you swing it's a hoot.
Any well-struck ball will hang against Mount Rundle's craggy face seemingly forever; a thrill for a lifetime. The other 17 holes of The Stanley Thompson 18 are darned good as well, earning the course a ranking in Golf Digest's 2005 Top 100 courses outside the United States.
Before leaving the Rocky Mountains, a player must head west from Banff to the Jasper Park Lodge (about a three-hour drive). As thrilling as Waterton and Banff can be, Jasper soothes the soul.
---
Golf in Alberta pictured here: 16 Green, Jasper Park Lodge Golf Course Photo courtesy Fairmont Hotels
Consistently rated as Canada's top resort course, it too has dynamic, elevated tee shots framed by mountain peaks. But the hole I love most is the par-4 14th. Here the golf course meets beautiful Lac Beauvert.
It's where players emerge from a dark tunnel of trees, and step onto a tee box matching anything at California's Pebble Beach. As Jasper head professional Kevin Sebulksi says: "The first time you step out there, you just want to stay for four or five minutes and look at the scenery."
From the tee, Pyramid Mountain looms in the distance and also casts a perfect image reflected on Beauvert's mirror-like surface. Geese and ducks fly by, fish can be spotted in the crystal-clear water, and as happened on my last visit, players can talk to contented canoeists paddling along the shoreline.
It's the kind of peace and tranquillity people find in the mountains. It's why years ago I was married above the Kananaskis Country Golf Course. Kananaskis boasts two challenging 18-hole layouts - Mount Lorette and Mount Kidd - that Golf Digest considers one of the best values in North America. I've played perhaps 50 rounds at Kananaskis, often straining my neck taking in the panoramic views and wildlife in this wonderful facility.
I can even see the spot where I was married a dozen years ago - where a meandering moose became part of the story.
---
About The Author of Golf in Alberta: Marriage to a Tee:  Travel Alberta is the destination marketing organization for the Province of Alberta. Guided by the Strategic Tourism Marketing Council, Travel Alberta is the steward for the effective delivery of tourism marketing programs. For information about our organization, please visit our Travel Alberta industry web site.
Copyright © 2006 Travel Alberta, All Rights Reserved
Article Source: the Phantom Writers Article Submission Service
---