GREEN SKIING IN ALBERTA
BY TRAVEL ALBERTA
Skiers are used to stopping for avalanche danger or traffic congestion on mountain routes.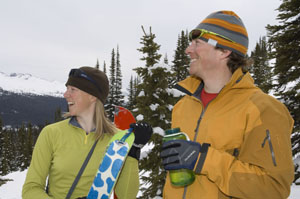 But at Sunshine Village it's not unusual to stop for goats grazing on the road. I've seen moose near Marmot Basin, which recently ceded terrain to Parks Canada for caribou migration. Once I got a rare glimpse of a bobcat, crouching unperturbed in the snow as I passed above on Lake Louise's scenic chairlift. Such sightings are privileges only afforded to Alberta skiers.
Where else in the world do you have to alter your ski line to avoid herds of elk grazing on the slope? I bumped into the burly but benign beasts on the North American at Ski Norquay one day. They were undeterred by my presence and more comfortable than me on the moguls and steep gradient.
Skiers and snowboarders are close to the climate when it comes to noticing the effects of global warming. With their need for snow and love of the mountains, they are increasingly going green with eco-friendly purchasing and destination choices.
Just choosing Alberta's ski hills denotes a green decision. Environmental responsibility and sustainability are pivotal to Alberta skiing where most ski areas are either in Banff or Jasper National Parks.
Here are some green tips to reduce your ski-print:
GREEN DESTINATIONS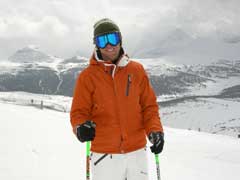 Being green makes business sense for ski hills, reliant on regular precipitation. Being seen to be green is also great PR.
Ski Norquay, Banff's closest ski hill, was rated top 25 in the
Ski Club
of Great Britain's international Green Resort Guide. The
Mount Norquay resort
– renowned for its Backyard Terrain Park and steep North American double black runs - got eco-accolades in climate policy, recycling, traffic reduction, building policy, power use and sewage management.
Sunshine Village
received a Responsible Tourism Award in 2006 from Neilson Active Holidays, a UK-based ski tour operator. The award recognized the resort's environmental practices, responsible business procedures and staff training. Earlier this year the famed Rocky Mountain resort was awarded a Silver Eagle Award for excellence in water conservation by the National Ski Areas Association.
With an average of 9 m (~30 ft) of natural, light fluffy snow per season, Sunshine only uses snowmaking for its daycare area and ski out.

Lake Louise Mountain Resort
– part of Resorts of the Canadian Rockies (RCR), this facility scores well in
Under The Sleeping Buffalo (UTSB)'s
environmental scorecard. Snowmaking upgrades, environmentally progressive construction techniques, wildlife monitoring, rare plant protection and land reclamation are all part of Lake Louise's eco-policy. Famed for early season World Cup ski races and its pristine, national park backdrop, Lake Louise embraces eco-friendly packaging, degradable garbage bags and eco-dining with organic pizza, Canadian beef and Alberta lamb.
Marmot Basin, a UNESCO World Heritage site, is home to Jasper National Park's
Ski Marmot
resort. Its Eagle Ridge Project achieved an award for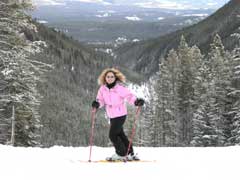 excellence in 2004 for showcasing nature, culture and heritage. In 2007 it won Best Green Snowmaking in Ski Canada Magazine. Marmot is an active participant in the Bombardier KPI (fuel reduction) and ATCO SMART (energy reduction) programs.
GO GREEN
Air travel contributes massively to our environmental footprint, but carbon offsetting can help reduce impact by funding projects to reduce global-warming emissions. Crystal, a British ski company bringing skiers to Alberta, was the first major tour operator to become carbon neutral in 2003.
Passenger coaches are an eco-friendly way to get from Banff's hotels to hills with Brewsters' new hybrid buses. The Town of Banff initiative reduces greenhouse gas emissions, furthering Banff's commitment to enhance air quality.
Trains win over cars in eco-travel – Hydro Quebec rates the train passenger footprint to be less than half that of car drivers and four times less than domestic air travellers. Via Rail's
Snow Train to Jasper
, running from early February to late April, brings weekend skiers from Edmonton to Jasper and back. The train boasts breathtaking 360-degree views of the Rockies through its domed Panorama car.
Rocky Mountaineer Vacations
offers winter packages from Vancouver and Calgary to the Rockies, with rail and hotel deals or multi-day itineraries – what better way to take in the splendour and expanse of Alberta's rugged scenery.
GREEN GARB
Eco-textiles are uniting fashion and function for skiwear. Patagonia, a pioneer in recycled and recyclable fabrics, has a flagship store in downtown Calgary – 403-266-6463. Owned by keen skier and backcountry tourer, Bruce Palmer,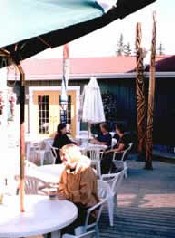 Elements has the biggest Patagonia selection in Canada, with prices attractive to tourists from Europe where the brand is more expensive.
The company wants all products to be 100 per cent recyclable, recycled or organic by 2010. "From rubber soles on shoes, to cotton, leather, and all the high-end ski and outdoor wear, Patagonia has stringent, environmentally-friendly controls on every process of manufacturing," says Palmer.
Inventors of Capilene - polyester made from recycled pop bottles - Patagonia boasts recycled and recyclable base layers, fleeces, leggings, hats and socks. "You can bring in your worn-out Capilene garments to our shop and they'll be sent off for recycling," explains Palmer, who dresses head-to-toe in eco-gear when skiing at Alberta's many resorts.
Made from the first ever recyclable nylon, the Shelter Stone Jacket will be on sale at Elements this fall. The store also supports One Percent for the Planet, which funds local and international environmental agencies –
www.patagonia.com
.
Increasingly popular for skiwear, bamboo textiles wick away moisture, trap warm air close to skin to keep you cozy, and are breathable for warmer temps. Naturally anti-bacterial, bamboo stays odour-free. One of the fastest growing plants on earth, it's the most renewable material available, absorbing a significant amount of CO2 while growing.
Arc'teryx uses it as an anti-microbial agent in an aerobic pullover. Salomon's Bonfire 2008/9 range includes bamboo, striped knee-high socks –
www.bonfiresnowboarding.com
. Fresh Sports Calgary offers Helly Hansen's eco-series, Ekolab. "There are jackets and pants created with new 'green' processes that they're trying to perfect to use on the rest of their line," says owner, Steve Saranchuk. Check out the Helly Hansen store at West Edmonton Mall –
www.westedmall.com
.
Icebreaker's merino wool underwear is now widely available across Alberta -
www.icebreaker.com
. "Icebreaker wool uses all renewable sources and is quite eco-friendly," says Monod's buyer, Deanna Monod, from Banff –
www.monodsports.com
.
Canadian Mountain Holidays (CMH) takes environmental stewardship very seriously for its heli-skiing operations. Based in Banff, the CMH retail outlet is using organic cottons, wool bamboo and Cocona fabric, made from coconut shells, for its skiwear –
www.canadianmountainholidays.com
.
GREEN GEAR
Head
, manufacturer of boots, boards and skis has partnered with global environmental charity,
Cool Earth
. Head is matching ten times its annual carbon emissions with rainforest carbon credits in an attempt to save 7,000 acres of mature rainforest from destruction per year.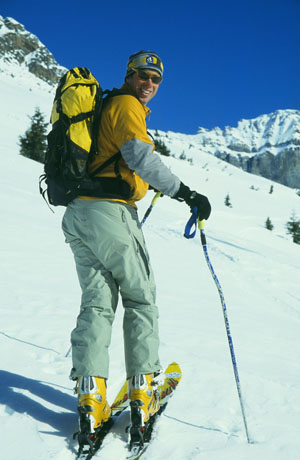 Ski Cellar Snowboard
in Calgary stocks Head gear and is also espousing bamboo and organic cotton in its spring and fall clothing ranges. "I think that most of our companies are looking at environmental impact in the production of products so we will see more and more of this coming to market," says Jean Hunt, who also spearheads ladies-only ski days at
Canada Olympic Park
and
Nakiska.
With bamboo and rubber replacing fiberglass and resin, the Sick Stick is
Salomon Snowboard
's 2008/9 freestyle eco-board. I was with Stephanie Lake, from Toronto's SBC Media, recently when she put the new board through its paces. Originally from Okotoks, Lake was visiting family in the Calgary area. The 10 per cent lighter-weight board stood up well to the deep powder, turned tightly in thick trees, and skimmed spring corn snow as light as a feather. Available at local outlets, including Rudeboys in Banff and Pacesetter in Edmonton.
GREEN GOO
You might not think of lowly ski wax when you're trying to ski green but it's crucial to choose one with minimal impact. Avoid PFOA, PFC or paraffin products and opt for natural ingredients – Mountain Ethics, Purl, Bluebird, Hillbilly Wax and Burton are some non-toxic alternatives. Ethica Wax, made in Rossland, BC, is available at
Mountain Equipment Co-Op (MEC)
stores. MEC, in both Edmonton and Calgary, supports
One Percent for the Planet
and offers ranges of organically-grown cotton, recycled polyester and PVC-free products.
Last but not least is lip balm. Alberta's snow is notoriously light and fluffy – testament to its ultra dry climate - so lip protection is paramount. Make sure yours is eco-friendly – check out
Lush
stores in Banff, Calgary and Edmonton. Pack your eco-sunscreen, too, as we get 2,400 hours of dazzling sunshine per year.
---

Would you like to give us your suggestions and ideas and have us build a customized ski get-away that fits your schedule and your budget? We can package accommodation and ski passes at great prices. Let us plan the details like tours and transfers, leaving you to
enjoy your holiday
. Fill out our
Vacation Request Form.