TRY OLYMPIC SKIING: NAKISKA AND FRIENDS
BY TRAVEL ALBERTA
WINTER OLYMPIC LEGACY: CALGARY 1988
Come to Calgary on your way to skiing the Canadian Rocky Mountains and you'll discover you can be carving Olympic turns
almost immediately.

The city is the gateway to the Canadian Rockies and it boasts two ski and snowboarding facilities with Olympic legacies in less than an hour's drive – actually three Olympic training grounds, if you include cross country skiing.

OLYMPIC SKIING: NAKISKA

Nakiska is known as Calgary's closest ski mountain, about a 50-minute drive west of the city into Kananaskis Country, a recreational playground in Alberta. It was home to ski competitions during the 1988 Winter Olympics that were based in Calgary.

OLYMPIC SKIING: CANADA OLYMPIC PARK

Canada Olympic Park (COP) is right in Calgary and it is a current training ground for World Cup and Olympic athletes as Canada heads toward the 2010 Olympics in Vancouver.

COP has a ski tower used in the 1988 Olympics ski jumping competitions. While you won't be using the COP tower, you can feel the thrill of ski jumping by using the Skyline – North America's fastest zip line. Recreational skiers and snowboarders use COP to train, get in shape and just get out there. Use it as a prelude to the Rockies and it's a quick way to get your snow legs. A new mogul section at the park gives experts a leg-burning playground.

OLYMPIC SKIING: CANMORE NORDIC CENTRE ENHANCED
If you want to mix up your ski or snowboarding holiday with cross country skiing, the Canmore Nordic Centre was home to competitions at the 1988 Olympics and just hosted a World Cup. The centre remains a training ground and with its close proximity to Calgary – less than an hour's drive away at the recreational mountain town of Canmore –it sits right at the edge of Banff National Park. And it just underwent an almost $26-million makeover with money provided by the Alberta government that extends both the trails and the ski season, while enhancing the day lodge.

Here are overviews of both Nakiska and COP, both of which have reputations as learning hills. You will find challenging areas at each, even if you are an expert skier.

OLYMPIC SKIING: NAKISKA'S CRUISER HEAVEN
Nakiska bills itself as the place to learn, and the addition of a new magic carpet at the beginner's area makes learning to ski and snowboard even easier. It's the longest conveyer style lift in Alberta at 350 ft/107 metres long. There is a ski and snowboard school with lessons available for all ages and abilities. This resort is also a place to train for racing. Just drive west of Calgary on the Trans Canada Highway and then south on Highway 40 and you're there.

The resort's ongoing snowmaking enhancements and the addition of a new snowcat ensure that its corduroy runs are enjoyed from December though to spring. Nakiska is scheduled to end the season this year on April 6.

Nakiska has 325 acres of skiable terrain with a summit elevation of 2,260 m/7,415 ft. The longest run is 3.2 km/2 mi. Of the 28 trails, 16% is beginner, 70% is intermediate and 14% is expert. There is a rail park and for Nordic skiing, there are double set trails at Nakiska's base.

"We've had a really great snow year, and with the upgrades to the lounge and the lodge and the snowmaking, we expect another season of great spring skiing," says marketing spokesman Walter Blackstaffe.

The terrain park became a rail park this year with small to large features that provide something for everyone, he says, including the twin tip skiers. "We had our first rail jam in January and it was a huge success."

FAMILY FRIENDLY LAYOUT
Nakiska's layout makes it especially friendly to families. The area is divided by the Bronze, Silver and Gold chairs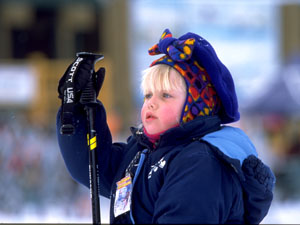 that take skiers and snowboarders to areas that correspond pretty well to beginner, intermediate and advanced levels, respectively. And all runs lead back to the day lodge, which makes it easy for people to find each other. "Nakiska" is a Cree word which means "to meet."

If you're a powder hound, check out Upper Eagle Tail or the glades reached by the Gold chair. Otherwise, there are cruiser runs that make can have you skiing all day, giving you great mountain views without burning your legs.


FOR A SNACK ATTACK
For dining, you can try the Finnish Line Lounge in the day lodge for pub-style fare and live music on weekends, and there is the day lodge cafeteria that offers breakfast and lunch specials. There is also a small assortment of shops and dining opportunities at the nearby Kananaskis village and the Delta lodge.


HISTORY BEHIND THE SKIING
In the late 1940's, coal was discovered at the eastern base of Mt. Allan. But construction began in 1984 on the site now known as Nakiska in preparation for the 1988 Winter Games. In recognition that Alberta was inhabited for 10,000 years before the arrival of the early explorers, names for expert runs were chosen as a salute to Alberta's first nation people. Among others, you can rocket down Walking Buffalo, Alberta's most famous Stoney Chief and leader of the Bearspaw band, or cruise down Eagle Tail, a Peigan chief of the last century.
---
enjoy your holiday
. Fill out our
Vacation Request Form