Rail and Cruise Packages
RAIL AND CRUISE PACKAGES

There are many different types of packages that take you to the wonderful sights - let's take a look at this Rail and Cruise Package brought to you by Rocky Mountaineer Vacations. Travel with Rocky Mountaineer through the Rockies and enjoy the luxury of an Alaskan cruise aboard Holland America Line's ms Zuiderdam.
Packages
YOU CAN CUSTOMIZE
For People Who Want Something Special ...
Rocky Mountaineer
Railtours®

Holland America®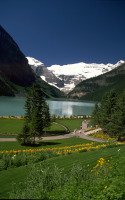 Travel Alberta



EXPERIENCE

LAKE LOUISE
BANFF
VANCOUVER
ALASKA
2009
new
Rail&Cruise

Rockies
Discovery
11NIGHTS/12DAYS

WITH
CRUISE THROUGH THE INSIDE PASSAGE TO STUNNING GLACIER BAY

STARTING FROM
$5,499



FEATURING:

The Fairmont Chateau Lake Louise

Banff Rimrock Resort

Sutton Place Hotel in Vancouver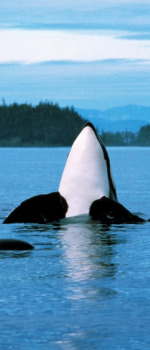 Tourism British Columbia
2009 NEW Rail and Cruise - Rockies Discovery
11 Nights/ 12 Days

Lake Louise, Banff, the Rocky Mountaineer and a cruise through the Inside Passage to magnificent Glacier Bay - all in less than two weeks.

Your Vacation Includes

* 2 days Canadian Rockies train tour onboard the spectacular Rocky Mountaineer® in GoldLeaf Service
* 7 nights Glacier Bay Inside Passage Cruise, Deluxe Verandah Ocean View Stateroom
* 9 breakfasts, 9 lunches and 8 dinners
* 4 nights hotel accommodation
* Meet and greet service at Calgary airport
* Private limousine transfer between Calgary and Lake Louise, including gratuity
* Lake Louise to Banff Tour, including Glacier Helicopter Tour and ranch visit
* Vancouver City Tour, including transfer to cruise terminal
* Private limousine transfer between cruise terminal and Vancouver airport, including gratuity
* Rail station transfers in Banff, Kamloops and Vancouver
* Luggage handling and National Parks Pass
* FREE Exclusive Attractions Pass


Experience an Alaska cruise and rail vacation with Holland America and Rocky Mountaineer.

Starts Calgary
05 May–26 May $5,499
02 Jun–09 Jun $6,099
16 Jun–04 Aug $6,499
11 Aug–15 Sep $5,899

All prices herein are based on double occupancy and do not include GST and fuel surcharge. Prices for singles and triples are available on request.
---
---
ITINERARY

WESTBOUND
DAY 1 CALGARY TO LAKE LOUISE
You will be met on arrival at Calgary International Airport and transferred to Lake Louise by private limousine. The rest of the day is at your leisure. Overnight in Lake Louise at The Fairmont Chateau Lake Louise.
DAY 2 LAKE LOUISE TO BANFF WITH HELICOPTER TOUR
Today your tour takes you through the magnificent Canadian Rockies past the Saskatchewan River Crossing to Cline River. Here you will enjoy a 25-minute helicopter flightseeing tour above the six glaciers of Mount Resolute, Mount Cline and the Whitegoat Peaks. You will also view a 270-metre (900-foot) waterfall, see some spectacular aqua-green high-alpine lakes and cross over a 2,700-metre (9,000-foot) mountain pass. A visit to a local ranch will provide ample time to discover the walking trails on-site and enjoy lunch at your leisure. Your tour ends on arrival in Banff this afternoon. Overnight in Banff at the Rimrock Resort Hotel. L.

DAY 3 BANFF TO KAMLOOPS

Travel onboard the Rocky Mountaineer from the mountain town of Banff to Kamloops, in the heart of British Columbia's interior, while enjoying the added comforts and amenities of GoldLeaf Service. Enjoy panoramic views of the spectacular scenery through dome windows and gourmet meals in the GoldLeaf Dining Room. Your journey takes you through a diverse array of scenery as you travel between the glacier and snow-capped peaks of the Canadian Rockies, over mountain passes and through remarkable tunnels, along rocky lakeshores and across the ranchlands of the interior. Today's highlights include the Continental Divide, the Spiral Tunnels, the Kicking Horse Canyon, Rogers Pass and Craigellachie, where the last spike of the Canadian Pacific Railway was driven. Dinner is included this evening at your Kamloops accommodation. Overnight in Kamloops. B, L, D.

DAY 4 KAMLOOPS TO VANCOUVER

Your journey continues west towards the Pacific Ocean and the coastal city of Vancouver. On today's journey you will again see dramatic changes in scenery as you travel from the desert-like environment of the interior, through winding river canyons and forests surrounded by the peaks of the Coast and Cascade mountains, to the lush green fields of the Fraser River valley. Highlights include the steep slopes and rock sheds along the Thompson River and the rushing waters of Hell's Gate in the Fraser Canyon. Overnight in Vancouver at the Sutton Place Hotel. B, L.

DAY 5 BOARD ALASKAN CRUISE

Vancouver's beauty is proudly unveiled during today's fully-commentated four hour tour. Venture through exotic Chinatown, historic Gastown, the downtown financial district and enjoy the best shopping and dining in town. Continue on to nature's splendor, the thousand acres of Stanley Park surrounded by brilliant city and ocean views. After a drive along English Bay Beach you'll visit the Granville Island Public Market before continuing on to the Vancouver Cruise Terminal where you board your ship early this afternoon. Overnight on Holland America's ms Zuiderdam. D.

DAY 6 CRUISE THE INSIDE PASSAGE

Enjoy sailing through the dramatic Inside Passage. Overnight on Holland America's ms Zuiderdam. B, L, D.
DAY 7 PORT OF CALL JUNEAU, ALASKA

Located at the foot of grand mountain peaks on the Gastineau Channel, the town of Juneau has the massive Mendenhall Glacier and the immense Juneau Icefields at its back door. Juneau is the place to let your imagination run wild. Explore the lush Tongass National Forest, visit the rustic shops in town, set out and whale watch, flightsee, hike, kayak, raft or fish. Due to the long daylight hours, there's plenty of time for your perfect Juneau adventure. Overnight on Holland America's ms Zuiderdam. B, L, D.
DAY 8 PORT OF CALL SKAGWAY, ALASKA

Take your time and poke into every little store from the Trail Bench to Lynch & Kennedy's Dry Goods. The Red Onion Saloon, with its honky tonk piano and costumed barmaids, is a treasure trove of memorabilia featuring pictures of Klondike Kate, Peahull Annie and other vintage characters. To complete the picture of those rip-roaring days, visit the nostalgic Trail of '98 Museum. The Klondike Gold Rush National Historical Park boasts restored buildings and wooden boardwalks that invite you to take a stroll into the past. Overnight on Holland America's ms Zuiderdam. B, L, D.
DAY 9 GLACIER BAY SCENIC CRUISE

As Biosphere Reserve and UNESCO World Heritage Site, Glacier Bay National Park protects a unique ecosystem of plants and animals living in concert with an ever-changing glacial landscape. Bring out the camera and listen for the thunderous sound of a monumental chunk of ice that has split from a glacier as it crashes into the sea. The impact shoots water hundreds of feet into the air. Glacier Bay has more actively calving tidewater glaciers than anyplace else in the world. Overnight on Holland America's ms Zuiderdam. B, L, D.
DAY 10 PORT OF CALL KETCHIKAN, ALASKA

Built out over the water and climbing weathered stairways, Ketchikan clings to the shores of Tongass Narrows and drapes the mountains with a cheerful air. Take time to explore Creek Street, the Tongass Historical Museum, Totem Bight State Park and Saxman Village, Ketchikan's main attractions. Deep water fjords created by retreating glaciers has left behind stunning granite cliffs towering thousands of feet above the sea and countless waterfalls cascading into placid waters. Overnight on Holland America's ms Zuiderdam. B, L, D.
DAY 11 CRUISE THE INSIDE PASSAGE

Enjoy sailing through the dramatic Inside Passage. Overnight on Holland America's ms Zuiderdam. B, L, D.
DAY 12 VANCOUVER DEPARTURE

After breakfast you will disembark the ms Zuiderdam and be transferred by private limousine to the Vancouver International Airport, where your vacation concludes. B.


All prices herein are based on double occupancy and do not include GST and fuel surcharge. Prices for singles and triples are available on request.


Hotels featured in this package:

In Lake Louise: The Fairmont Chateau Lake Louise - Lakeview Room

In Banff: Rimrock Resort

In Vancouver: The Sutton Place Hotel