Rent a Motorhome and Set Your Own Pace!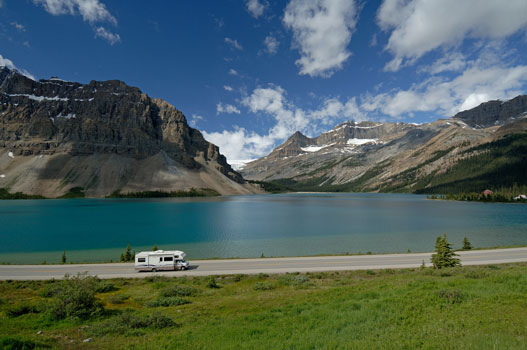 The Icefield Parkway
Scott Rowed



RENT A MOTORHOME
My father in-law always says that there is nothing like sleeping in your own bed every night, no matter where you are. How can you do that? Rent a motorhome!!
THINGS TO CONSIDER
Reality Check: Let's look at what a motorhome holiday is really all about. Here are a few things to consider before booking that motorhome rental.
Back to Nature: The advantage of a motorhome is that you can really enjoy the beauty of the mountains. A great example of this is camping along the Icefields Parkway - the jewel of the Rockies. The Parkway is the highlight you won't want to miss - especially if you are only coming for a week.

Schedule Flexibility: No checking in and out - you are on your own schedule. Just make sure to book your campground spot ahead of time if possible! Book one campground in the wilderness (like Wilcox Campground on the border between Banff and Jasper National Park, Waterfowl Campgrounds in the Mistaya River Valley (north of Peyto Lake) and book the next one close to town so you can enjoy the comforts of a spa or a golf course! (Take for example Tunnel Mountain in Banff or Whistlers in Jasper). This way you get the best of both worlds - yet you are still camping.

Meal Flexibility: If you wish, you can prepare your own meals (gotta watch that budget!) - or dine in elite restaurants (example: Storm Mountain Lodge) - that rival any excellent restaurant in a city. Watch out for places along the Parkway that are expensive and geared towards getting traffic through with a full belly. These places are great if you need to eat (don't think you want to be munching on bark like the elk!) but if you plan your day out, you can enjoy a meal where you want be.

Budget: What is your budget like? Are you restricted in what you would like to see and do? I think you can save money (especially in high season) by staying and eating in your motorhome. We have plenty of good grocery stores with food everyone should be able to recognize!

The Camping Experience: Some people love the experience only camping can give you. The people you meet and the advice you share is terrific. Everybody talks about the friendships that are made.

Responsibility of the Maintenance of your RV: I think we all know what I am talking about. Camping is not all romance! There is the duty of getting rid of waste - there is no getting around it! Washing your RV from time to time is also a good idea.
With all of that said, some people are not looking for that kind of experience. Let's face it - most of us live in large towns or cities and are used to the comforts such communities provide. If this is you, don't feel bad, just click to get back to the By Motor Vehicle page!


For more on this topic read: TO RENT AN RV OR STAY IN A HOTEL?




---
INSIDER TIP: CHOOSING A MOTORHOME
Never Driven a Motorhome and Now I have to Choose One!
The word motorhome is perhaps intimidating on its own, and now you are considering driving one! Obviously the operation of a motorhome requires the basic knowledge of automobile operation. If you are comfortable in operating any larger American automobile, the operation of a motorhome should not be a problem. Now, on to the renting of a motorhome. Well, there are basically three types of motorhome to choose from:
1. Truck Camper - Consists of a light duty truck with a complete living facility mounted inside the box of the truck. These are perhaps the easiest to operate, as they have a wheel base the same as or just slightly longer than a large car. The living area, though small, will accommodate two adults comfortably; perhaps even a small child as well.
These units have everything including bath facilities, shower, sink, and toilet. They include, in the kitchen area, propane stove, oven and perhaps a microwave oven, and a conveniently large refrigerator.
The sleeping area consists of a comfortable regular two-person mattress. An additional sleeping area located at the eating nook may sleep an additional person or two. Fresh water is carried along in a quantity that is sufficient for a few days of so called "dry camping". The sewage containment system will accommodate that duration as well.
2. Class C Motorhome – Consists of a similar light duty truck frame, however the passenger cab area appears more van like than truck like. They do not have a box as such. That area is replaced with a more spacious cabin constructed specifically for this application.
The living area is generally larger than the Truck Camper. The most significant difference is the combining of the driving cab with the living area. Although this combined area adds comfort while driving, it doesn't improve the living area significantly. Generally, this type of motorhome can accommodate four to six adults. Living area options are similar to the above camper.
3. Class A Motorhome – Appearing similar in size to passenger buses, these coaches have the ability to make you feel as though you have not left home. Yes, they can be intimidating! However as with any new experience, caution will serve you well. They generally are not significantly wider than the above two, however they are, and when driving these units you must be fully aware of your size.
The living areas can rival that of some homes, with convection ovens, walk-in showers, master bedroom with sitting area, reclining chairs with closet space to accommodate six people.
As one steps up into the next class of motorhome, the most obvious difference is the size of the living area. In order to fully appreciate the western Canadian experience, any of the above three types of motorhome will suffice. Your choice will depend on two criteria – how many people will be travelling together and your personal need for space.
Most rental facilities will instruct you in the safe handling of your choice of motorhome. However you must know within yourself if you are capable of driving a motorhome.







Return from Rent a Motorhome to By Motor Vehicle