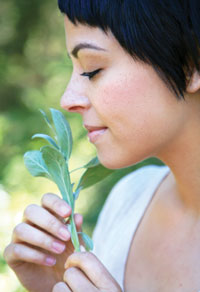 INTRODUCING...
THE ROCKY MOUNTAIN SOAP COMPANY
We choose to profile goods and services we think are "great" and hope in doing so that people will experience the best things we in the Rockies have to offer. This is NOT paid advertizing, by the way! So we can be honest!
Living here in the Rockies, using products from the Rocky Mountain Soap Company in our daily lives is just... umm... natural - in the truest sense of the word.
Imagine this...
After a long hike on a cool fall day, soak in a steamy bath with smells of sweet orange, ylang ylang and lavender.
Go for an evening skate followed by a winter warm-up with ginger & lime creating warming sensations.
WHERE DO SUCH BLISSFUL IDEAS COME FROM???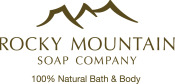 Karina Birch and Cam Baty have proven that the Rocky Mountain Soap Company was the little company that could. Beginning with a 300 square foot shop in Canmore, they now sell their natural products in 8 stores, all made in their wonderful smelling 7000 square foot Canmore workshop.
Canmore, a little mountain town known for its natural beauty and fresh mountain air, has become a get-away for people all over the world. Could life here in the Rockies be the inspiration for such an array of 100% natural bath and body products? Let's find out from Karina Birch!
Honey extract, white lily, date palm... where do you get the ideas to create such original products?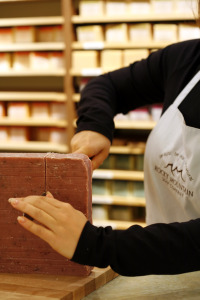 Each fall we have a team that spends a day brainstorming products slated for development. There is usually a lot of food and drinks involved...we need energy to keep our brains working.
Have you always been interested in creating natural products?
Since I was 12 years old, the kitchen was my cosmetics counter. Banana hair masks and strawberry face peels were the norm. I got used to solving my skin and hair issues with everyday foods.
Why is it important to you to have products you can declare as "all natural"?
I innately don't understand why synthetic ingredients are beneficial in the long term. If you can choose natural ingredients that work, why wouldn't you? There is a lot of controversial research on the ill effects of many personal care ingredients and I feel that is one risk not worth taking. Natural Matters.
With the world becoming more conscious of our responsibility to the earth and its future generations, do you think that natural products produced using sustainable energy will be the way of the future?
I think it has to, but there is a long way to go. The technology isn't always readily available. It took us almost 2 years to find biodegradable packing peanuts to use in our boxes. Only in the last couple of years has truly sustainable paper for our labels been accessible. It will get there, but it feels like an uphill battle. The industry is finally giving in to what consumers have been asking for.

Tiny Tot
Foaming Wash
As a mother, what is your favourite product for kids?

We love the Rocky Mountain Soap Kids Foamers. My 4 year old daughter likes us to draw pictures with the foam on her tummy. It makes bath time fun and I know it is gentle on their skin. I also like how the chamomile is calming before bed time.

In the dry winter months, body butter is a lifesaver for dry skin anywhere! What is your favourite winter product?




Transformative Cleansing Oil

Our cleansing oil for the face is something I can't live without. It removes makeup and dirt without stripping my skin of the valuable natural oils. I can't use anything else.

The response from your customers has been huge with people from all corners of the earth actually relieved to have found your products! What has been the most therapeutic product for you have developed?

Our Pumpkin Patch soap and Foot Butter are by far the most valuable for people. The Pumpkin Patch soap relieves eczema and the Foot Butter is amazing for dry, cracked heals. We often get a bit teary-eyed by some of the testimonials that come in on those two products. Definitely products that make an impact in people's lives.

What do you love most about living and raising a family in the Rocky Mountains?

The mountains keep me grounded and put things into perspective. When life gets busy juggling multiple projects, it is nice to just look around me and get a sense of calm.

Parents all over the world are being faced with the task of changing the way our kids look at the world and the products we use.

Do you have a simple but fun recipe for a natural product you could share with moms and dads?

Here is a Bath Bomb recipe that is totally fun!


1 cup baking soda
1/2 cup citric acid
1/2 cup epsom salts


1/2 tablespoonss olive oil
1/4 tablespoon water and liquid glycerin
1/2 teaspoon essential oil
**Mix these last three ingredients in a spray bottle.

Sift the dry ingredients together really well to get the citric acid dispersed evenly throughout.

Shake spray bottle with oil, water, glycerin and essential oils. Add two squirts to dry mixture and mix quickly. If your mixture is not moist and crumbly, add one more squirt at a time. But usually 2-3 squirts will do. If you get it too wet it will set off the reaction of the baking soda and the bath bomb will not fizz when you're ready to use it. It sort of crumbles in the bath.

Take a large spoonful of mixture and mold it in your hands as if you were making a meatball, pressing firmly to hold the mixture together. Place on a tea towel and repeat until all the mixture is used up. Let dry overnight.

To use, drop bath bomb into the tub after it is filled and watch it fizz!