Rocky Mountaineer Rockies Road & Rail Itinerary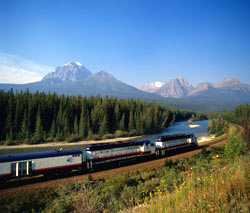 Travel with Rocky Mountaineer through the Rockies
Courtesy Travel Alberta
ROCKY MOUNTAINEER ROCKIES ROAD & RAIL ITINERARY
8 Days / 7 Nights
Day 1, Vancouver
Upon arrival in Vancouver, pick up your rental vehicle check in to your selected hotel. Included is admission to the Lookout Tower. Overnight in Vancouver.
Day 2, Lac Le Jeune
You will have a short but scenic drive from the Pacific Coast to the interior of British Columbia. On the way, you will travel through the Fraser Delta and into the arid, semi-desert region of Kamloops. Dinner is included at your accommodation tonight. Overnight in Lac Le Jeune.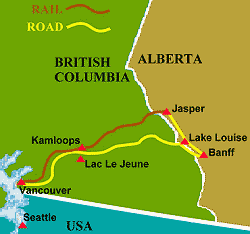 Rocky Mountaineer Rockies
Road & Rail Route
Day 3, Banff
After breakfast (included), continuing eastward, you will pass into the Rocky Mountains today. The highway takes you over Rogers Pass, through Glacier and Yoho National Parks, past the Spiral Tunnels, into Banff National Park and by Lake Louise (a short detour from the highway) before you arrive into the town of Banff. Overnight in Banff.
Day 4, Banff
Your day is at leisure to explore the town and area. Included are admissions to the Banff Gondola on Sulphur Mountain, Cave & Basin National Historic Site and the Upper Hot Springs. Overnight in Banff.
Day 5, Jasper
Your journey will take you back past Lake Louise today (in case you missed it the first time), and then northbound on the Icefields Parkway to Jasper. Along the way, you will see many glaciers, glacier-fed lakes and spectacular peaks. A stop at the Athabasca Glacier gives you the opportunity to take a ride on one of Brewster's unique SnoCoaches up onto the glacier (admission included). Overnight in Jasper.
Day 6, Jasper
Today is free for you to explore Jasper National Park. You may wish to try a raft float trip on the Athabasca River, cruise on Maligne Lake, ride up Whistler's Mountain on the Jasper Tramway, golf at the Jasper Park Lodge or take a hike. (Suggested activities not included). Overnight in Jasper.
Day 7, Kamloops
Early this morning, drop off your rental car at the train station then board the Rocky Mountaineer for your two day trip to Vancouver. Breakfast and lunch are included onboard today as well as transfers in Kamloops. Overnight in a moderate Kamloops hotel.
Day 8, Vancouver
Re-board the Rocky Mountaineer for the second day of your journey to Vancouver. Breakfast and lunch are again included on you trip today. Your tour ends upon arrival into Vancouver.





Return from Rocky Mountaineer Rockies Road & Rail Itinerary
to By Rail