View Tunnel Mountain Trail in a larger map

View Tunnel Mountain Trail in a larger map








Are you looking for a great Canadian holiday... one with

Let's Go!!
lots of powdery snow?
glistening glaciers?
skating under the moon...with hot chocolate?
oh yeah... and lots of warm clothes?
How about visiting the
Canadian Rockies
!
The Rockies attract many visitors every year at all times of the year,
BUT
if it is snow you are looking for, you will want to come between the months of December and April. This is usually the time when the
big dumps
tend to happen, although it has been known to snow every month of the year!
Where to Visit

Marcel - Your Virtual Guide
Would you like some help planning and booking your holiday to the Rockies? My name is Marcel and I have been a tour guide here in the Rockies for many years. I am a local and have created
Rocky Mountain Tour Guide.com
to help visitors plan their holidays.
What would you like? A self-drive itinerary? A package with modifications? A custom holiday with things you've researched made into a package?


Just Click!
If you would like our help, just click the "Help Me Plan" image and fill in the following form revealing all your wishes and desires, and we will see what we can do in your time frame and budget. We work with a terrific wholesaler and together we can make the most out of your time and money.
You can make it your dream vacation if you just focus on what it is you really want, read up and plan your itinerary thoughtfully.
Happy Planning!
Now let's get started. Here are some suggestions...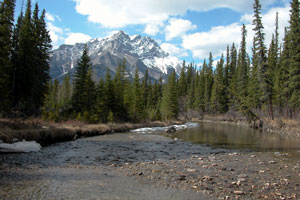 Bow River, Banff National Park
Banff

The town of Banff as well as Banff National Park are premier tourist destinations. The discovery of hot water bubbling out of Sulphur Mountain was to be the beginning of Canada's first National Park and, with that, Banff became known around the world.

Today people come to Banff with various dreams in mind. Some enjoy camping in the great outdoors while others relax in mineral pools and delight in spa treatments. Some are interested in learning about Alberta's aboriginal past; some can't wait to go up Sulphur Mountain Gondola to see the peaks from a different perspective. From the backpacker to the five-star hotel guest, there is something for everyone in Banff.

Lake Louise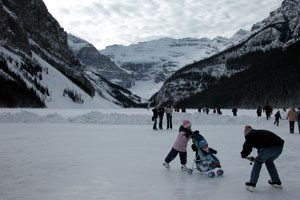 Skating with my Kids
Lake Louise
The most sought-after spot in the Rockies has got to be Lake Louise. In the summer, the lake is stunning and the colour - remarkable. Walk on the lakeshore or hike up to the teahouse for some great views. In the winter under a blue sky, Victoria Glacier looks magical. The calmness allows you to relax and breathe in the fresh mountain air.
Let's not forget the Fairmont Chateau Lake Louise - what a treat. Whether you are stopping in for tea or staying a few nights, visiting the Chateau will be an experience you won't soon forget.
In the summer months, you may also want to visit Lake Moraine and the Valley of the Ten Peaks. It is just a short drive from Lake Louise and from there a short uphill walk to one of the most beautiful vistas you will ever see.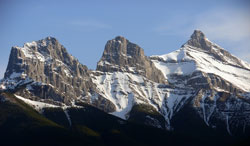 The Three Sisters
Canmore
The beautiful mountain town of Canmore is situated on the Bow River between Calgary and Banff on the eastern edge of the Canadian Rocky Mountains. Some of you may know it as the site of the nordic events in the 1988 Winter Olympics. The Three Sisters, Canmore's most recognizable peaks, tower over the little town located in the valley. This small community got its start in 1884 and due to the Canadian Pacific Railway and the coal mining industry. Today this little town is a mountain resort with a lot to offer. From dog sledding to cross country skiing, from ice climbing to skating, Canmore is a great place to experience the great outdoors.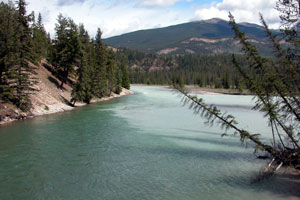 Confluence of the Miette and Athabasca Rivers
Jasper National Park
Jasper
Jasper has always been special to me. It is a little remote (not as accessible as Banff) and there is somehow a slower pace in this cozy getaway. If you are looking for a weekend escape or even a refreshing week away - come to Jasper and see what it has to offer. Go whitewater rafting on the Athabasca River and experience tbhe power of water! Go on a horseback ride into the deep wilderness and get back to nature!
Winter Activities
The ski resorts of the Rockies are known for their powder - a real attraction for Europeans used to more humid climates. There are a few different types of ski passes available, some even give you the opportunity to ski or snowboard at a few different resorts. A nice feature, especially if you really want to check out the various mountain areas. The ski resorts open in November and stay open until April - conditions permitting.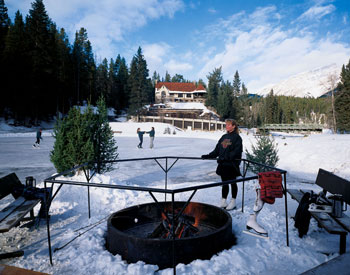 Photo courtesy Fairmont Banff Springs
If you are not a skier or snowboarder, you can always go for an afternoon skate or sleigh ride. Sledding, or as we say "tobogganing", is also a favourite pasttime here - especially for the kids. Just make sure you have the proper protective head gear! Down at the Banff Springs Hotel there is great sledding and skating to be enjoyed! There is usually even a fire to warm yourself by!
---