Vancouver Art Gallery
Vancouver Art Gallery, photo by Tourism British Columbia


The Vancouver Art Gallery is an 80-year-old institution that features both permanent and guest collections. Visitors will enjoy thousands of individual pieces of artwork, making the gallery a day trip in and of itself. The gallery also works to build its collection of historical and contemporary art pieces that are created both by local and international artists. Featuring British Columbia's own artists is a main focal point of the Vancouver Art gallery, and you will see many famous Canadians' work on display including Emily Carr, EJ Hughes, Toni Onley, Gordon Smith and Ann Kipling. These are just a few names of the many local talents visitors can discover year round.
The Vancouver Art Gallery has benefited from three expansions during its 80-year run in the city, and is planning a fourth expansion projected to serve the gallery for at least the next 50 years. The original art gallery was built in 1931, funded completely by a group of art patrons who raised all the money under the leadership of wealthy businessman Henry A. Stone. It was then expanded in 1951, and then relocated in 1983 to its present-day location in the downtown former provincial courthouse building.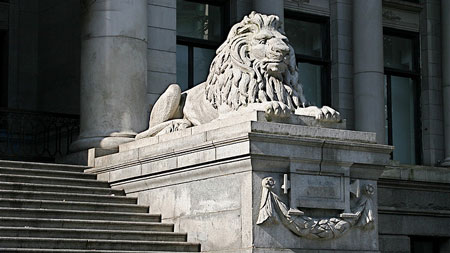 Vancouver Art Gallery Lion, photo by pkdon50 at flickr

Outside of its permanent and touring exhibitions, the gallery prides itself in staying relevant to audiences of all ages with regular events. On select Friday evenings each year, the gallery hosts Fuse – a transformation of art, music and live performance that has been happening since 2005. This adult-only event features DJs, dancers, out-of-the-box gallery tours and surprise guests and features each time. Admission is $17.50, and gallery members are always admitted to Fuse for free. Check the gallery's official website for dates and times of upcoming Fuse nights.
For children, there is always something going on at the Vancouver Art Gallery. The Making Place gives children the chance to touch art rather than simply admire it. These special hands-on workshops vary each second and fourth Sunday afternoon of the month, and a topic list is available by contacting the gallery directly. Each Saturday, art tours are provided with children in mind, as they are led by artists, dancers, teachers, musicians and others that are skilled in educating kids on art from a whimsical point of view. Finally, a teen art group meets during the school year during late afternoon and into the evening on Thursdays. The group includes everything teens love – a behind the scenes look at the gallery, free food, and a social scene in which to cultivate friendships, be it local or abroad after you return home.
The gallery is open year round, and admission rates and hours depend upon the time of year. From October 2011 through May 2012, admission at the museum stands at $17.50 for adults, and $12.50 for students and seniors. Children aged 5-12 can visit for under $7.00, and little ones younger than five-years-old are welcomed to tour the museum at no cost. If your family is on a budget, check out the Vancouver Art Gallery on Tuesdays after 5pm, where admission is a simple donation amount at the discretion of each visitor.