DAY 33 OF MY FOUR WEEK CIRCLE TRIP: MANYBERRIES - BRANDING CATTLE

I ended up here in the small town of Manyberries again to give my trip an end point, but also because I had been invited to see something very characteristic for Southern Alberta - cattle branding.

At 11 o'clock the branding started. First they made a fire that would heat the branding irons. Around 2 o'clock the cowboys began getting the calves in order to brand them. It was really something special to see how that works. I had never seen anything like it before. The cowboys use their horses to get close to the calf and then swing a lasso. It was incredible to see how the horse then just knew what to do. For me this was one of the highlights of my trip.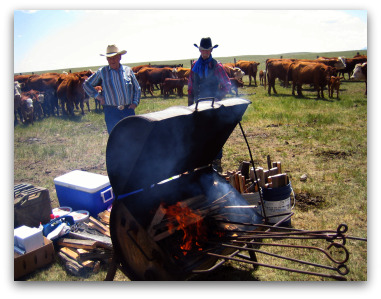 Things are Heating Up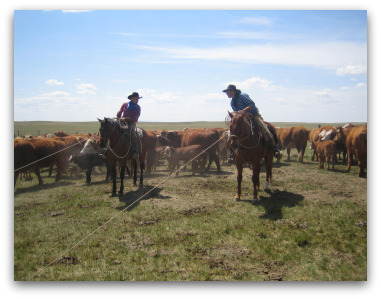 Cowboy and Horses do their Job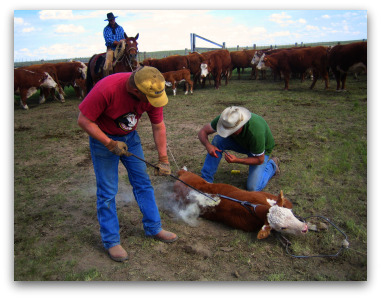 Branding the Calf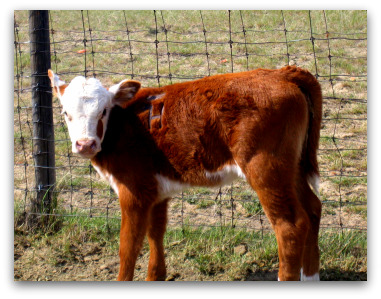 Branded Calf
I am so happy to be back from my trip safe and sound. No accidents and nothing was stolen! I think it was a wonderful trip here in Canada and the United States.
I would really recommend doing something like I have done. If you have the chance to work here in Canada for a year, you will really learn a lot and meet many new people. It was a wonderful experience.
Thank you for going along with me on my journey! Until next time!
Michael
Return from Branding Cattle
to Four Week Circle Trip Part Three