DAY 25: LIKELY - CARIBOO MOUNTAINS PARK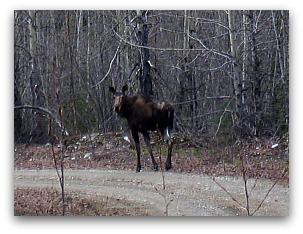 Moose Glance
After a wonderful breakfast made by Peggy, we left Likely to look for some more bears. We tried to drive to Spanish Lake but the snow was too high. We then decided to go up Black Bear Road which is actually a Grizzly area, but unfortunately there was too much snow there too. We walked around the area but it was just too early to see some Grizzly.

We drove up Cariboo Mountain and up the creek road where we saw some Grizzly! We couldn't take any pictures - but we all wanted too! We waited for an hour and hoped that the bear would come back and then made our way back to Cariboo Mountain Road to Likely. On the way we saw a beautiful moose and got some great pictures.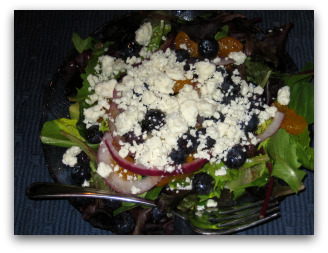 Mouth-watering Salad
Once back home Peggy made us an amazing lasagne with a delicious salad. If you are here in Western Canada, I would recommend travelling here to Likely and doing a trip like this. If I were to do it again, I would come in fall when the Salmon runs into Cariboo and Quesnel Lake. That would be great!
Finally, I must say that I learned so much about bears and their habitats. Thanks again to Gerry and Peggy! I had a great and unforgettable time!
DAY 26: LIKELY - VERNON - KELOWNA
After taking some pictures of Likely, I left the quaint little mining town and drove to Vernon and made a stop at Historic O'Keefe Ranch located near Vernon.
Historic O'Keefe Ranch
tells the story of early BC Ranching with historic houses, traditional machinery and educational buildings from another time. Children and adults will spend an enjoyable afternoon there learning about farm animals as well as the history and culture of the area.
From there I drove to Kelowna, where I stayed overnight at a campground.
DAY 27: KELOWNA - OLIVER - OSOYOOS
Today I drove to Oliver in the Okanagan Valley. Oliver is a little town surrounded by acres of vineyards. No wonder it is the Wine Capital of Canada!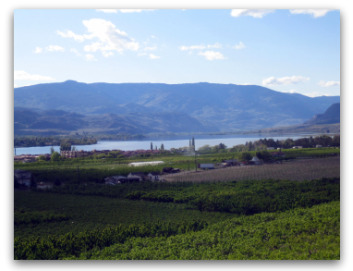 Osoyoos
From there I drove another 21 km to the little town of Osoyoos where I visited the Nk'mip Desert & Heritage Centre (pronounced in-ka-meep). What a unique experience! This is really a new kind of family tourism destination that has a lot to offer.

Neatly tucked into the sandy hillside, this state-of-the-art interpretive centre has fascinating indoor and outdoor exhibit galleries where you can learn from hands-on displays and informative lectures about the first people to live in the Okanagan Valley - the aboriginal people known today as the Osoyoos Indian Band.

You can walk around an outdoor interpretive loop where you experience what it was like to live in the hot desert valley with its many plants and animals. The small but smartly-built houses are remarkably cool and comfortable. It was really an interesting experience to see how these resourceful people once lived.

The Okanagan is a very special place. It is the only desert in Canada and the climate there provides us with a fruit and vegetable haven. I would recommend taking advantage of the many orchards, gardens and of course wineries located in the Osoyoos and Oliver area. There is always time for some fruit and vegetable picking, as well as an afternoon spent tasting the wonderful wines of the Okanagan.

I had a friend I knew from Canmore living in Osoyoos and so I spent the night there.

DAY 28: OSOYOOS - CRESTON

At 9 o'clock I started out for Waterton. The weather was wonderful and it was so nice to go over the various mountain passes.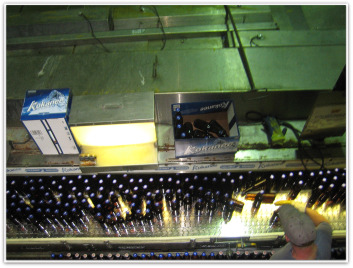 Kokanee Beer Brewery
My first stop was in Creston to visit the famous beer brewery
Kokanee
I met two Swiss guys there and we took a tour of the brewery. It was interesting to see how and where the cold stuff is made!
After a long day, I turned in at a local campground in Creston.
DAY 29: OSOYOOS - WATERTON
It was another long day of driving - through mountain passes into Alberta - and then suddenly - I saw flat land and it looked so different. This was very appropriate as Waterton is where "where the mountains meet the prairie". I will spend the last few days of my trip in Waterton.

DAY 30: WATERTON - RED ROCK CANYON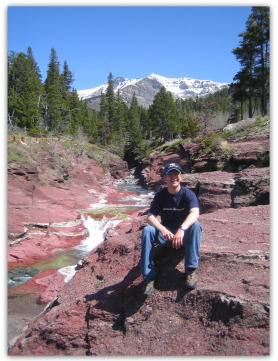 Michael enjoying Waterton
Today was a very beautiful and warm day. I drove this morning into Waterton National Park - which is well known for its red rocks. The first thing I did was drive up to Red Rock Canyon. It was so incredible and just different from other rocks I had seen. There is a narrow canyon with a beautiful mountain stream. There was so much snow still that I couldn't go high up into the mountains like I really wanted to. To assist visitors like myself, there are many displays and a self-guided trail. If you are interested in having a picnic, there is a designated area - and there are even washrooms! This is definitely worth visiting. You don't want to miss it!
I then went to the little mountain town of Waterton. I decided to go on a circle cruise that took me from Waterton Lakes National Park in Canada to Glacier National Park in the United States and back again. The commentary was great - they explained how nature changes so dramatically from flat land to the high mountains.
Tonight I will be staying at the camp - I really hope that the weather will be nice again tomorrow.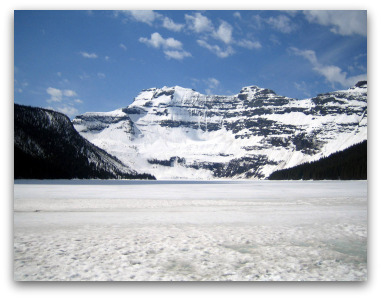 A Frozen Waterton
DAY 31: WATERTON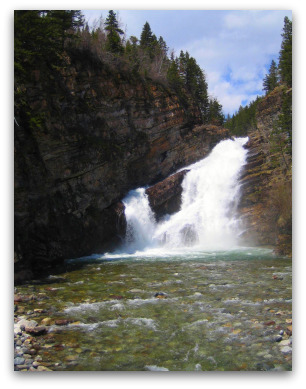 Cameron Falls
Ahhh... another day in Wateron Lakes National Park! This morning I drove up to Cameron Lake. To get there you take a 16 km (10 mile) scenic highway called the Akamina Parkway up to the lake, where I found a lot of snow and ice still. Situated between the majestic mountain peaks of the Akamina Ridge, this crystal blue lake looks like a jewel. Here you can rent a canoe and enjoy a quiet and relaxing afternoon. If you are lucky, you may even see a bear or two, as it is a common place for Grizzlies.
From there I went into town again to spend some time relaxing by the lake and enjoying the beautiful weather. Then I took a walk over to Cameron Falls, located right in the village of Waterton.
This was really the end of a great trip. Tomorrow I would be heading back to Manyberries, where I started my trip 4 weeks ago. On my way back, I am going to make a stop at Head-Smashed-In Buffalo Jump, just outside Fort Macleod, and then drive on to Manyberries for the last highlight on my trip: branding cattle. I have never seen this ritual and am looking forward to it!
DAY 32: HEAD SMASHED IN BUFFALO JUMP - MANYBERRIES
I started my trip to Manyberries at around 10 o'clock today and stopped outside Fort Macleod at the famous Head-Smashed-In Buffalo Jump. This is the site of one of the world's oldest, largest and best preserved buffalo jumps -which is why it was declared a UNESCO World Heritage Site in 1981. What a sight. There are vast hills and cliffs that were strategically used by the aboriginal peoples of the plains for more than 5,500 years.


Head Smashed In Buffalo Jump
You may be wondering why it is called Head-Smashed-In-Buffalo Jump, well, that it exactly what would happen to the Bison as they ran off of the cliffs to their death below, where the native people would be waiting. They then would proceed to Thanks to their excellent understanding of topography and of cut up the carcasses, using every piece of the animal. Nothing was ever wasted.
Head-Smashed-In-Buffalo Jump is located just 18 km north & west of Fort Macleod, Alberta and if you are in the Waterton area, I would recommend stopping there to visit the very interesting interpretive centre. I learned a lot about how the first nations hunted buffalo and how they lived throughout the year.
From here I drove to Lethbridge and then on to Manyberries. It was very hot and I enjoyed looking at the open ranges and vast farms along the way.
CLICK HERE FOR PART FOUR!

Return from Four Week Circle Trip Part Three
to Part Two