Golf Destinations


in the Canadian Rockies and Beyond


What makes mountain golf in Alberta & BC so spectacular?
A number of things!
The weather is mild and not too hot, allowing you to play all day!
Alberta summer days are looong which means more time for golf! Play into the cool evenings and watch the sun set!
The views from the courses are unbeatable! With backdrops of georgous mountain panoramas, you'll be busy taking pictures at every hole! That's what makes it destination golf!
Alberta's low humidity allows you to enjoy golf even on the warmest summer days.
The thinner air at high elevations allows the ball to go 10-15% farther!
Destination Golf in the Rocky Mountains is something you will really enjoy! The views are spectacular... but remember to keep your eye on the ball! 
---
DESTINATION GOLF IN THE CANADIAN ROCKIES
---
BANFF
---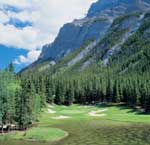 The Fairmont Banff Springs Golf Course
405 Spray Avenue
Banff, AB
Phone: (403) 762 2211
Fax: (403) 762-5755
Email: banffsprings@fairmont.com
Website: www.fairmont.com
These two courses, Stanley Thompson 18 and Tunnel 9 are situated beneath the famous Fairmont Banff Springs Hotel next to the beautiful Bow River. Surrounded by mountains and beautiful forests, don't be surprised if an elk tries to steal your attention away from your game!! Photo courtesy Fairmont Banff Springs
---
CANMORE
---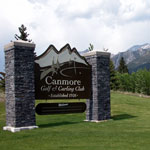 Canmore Golf Curling Club
2000 - 8th Ave
Canmore, AB
Phone: (403) 678-4785
Toll Free Booking Line: 1-888-678-4785
Administration Toll Free: 1-877-678-5959
Phone: (403)-678-5959
Email: info@canmoregolf.net
Website: www.canmoregolf.net
Open since 1926 in the small mountain town of Canmore, you will the enjoy this course's lush fairways and proximity to the beautiful Bow River. The setting is in the mountains, yet it is only walking distance to the picturesque town centre. Photo: Marcel Finnigan
---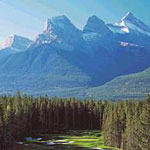 SilverTip Golf Course
2000 Silvertip Trail
Canmore, AB
Phone: (403) 678-1600
Toll Free Booking Line: 1-877-877-5444
Fax: (403) 678-1609
Website: www.silvertipresort.com
You couldn't ask for a more stunning locating for this challenging course. SilverTip is a world-class, 7,200 yard, 18-hole championship golf course which will amaze you with 600 feet of elevation. The remarkable views of the mountains surrounding Canmore as well as the love of detail revealed on this course with its waterfalls, streams and ponds will leave you wanting more. Photo courtesy Travel Alberta
---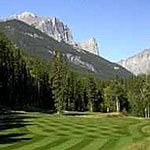 Stewart-Creek Golf & Country Club
Three Sisters Mountain Village
Canmore, AB
Phone: (403) 609-6360
Toll Free Booking Line: 1-877-993-GOLF (4653)
Pro Shop: (403) 609-6099
Fax: (403) 609-6085
Website: www.stewartcreekgolf.com
Email: info@stewartcreekgolf.com
This Gary Browning design is considered to be one of the best golf courses in North America! It has been rated by Golf Digest to be a 4.5-star golf experience and the natural flow of the course makes it challenging and fun. Located in Three Sisters Mountain Village, you will even get the chance to golf by a mine shaft, reminiscent of Canmore's coal mining heritage!
---
KANANASKIS COUNTRY
---
Kananaskis Country Golf Course
Mt Lorette & Mt Kidd Courses
Highway 40 South, #1 Lorette Drive
Kananaskis, AB
Toll Free Booking Line: 1-877-591-2525
Phone: (403) 591-7272
Administration Office
Phone: (403) 591-7070
Fax: (403) 591-7889
Email: info@kananaskisgolf.com
Website:www.kananaskisgolf.com
This golf course was badly damaged during the June 2013 Alberta floods.  The provincial government has yet to decide whether the 32 of 36 holes will be restored as other infrastructure in southern Alberta is in great need of repair.
This stunning golf course has a great fanbase conducting fundraisers!  With any luck, we hope that you will be able to play this beautiful course on your next trip!
Rated by Golf Digest as one of the top 25 public courses in North America, this 36-hole Robert Trent Jones Sr course is at almost 5,000 feet (1,500 metres)! Photo: Marcel Finnigan
---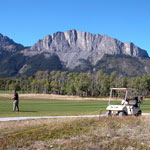 Kananaskis Ranch Golf Resort
The Yamnuska-End Mountain Course
Ranch Road, Highway 1x, Exshaw, AB
Toll Free Booking Line: 1-877 673-2700
Phone: (403) 673-2700
Fax: (403) 673-2702
Email: golf@kananaskisranchgolf.com
Website:www.www.kananaskisranchgolf.com
Golf at the foot of Mt. Yamnuska in the middle of nature! You will love the elevated tee and great visitas! This regulation course is priced right and power carts, pull carts, club rentals and Pro Shop are available. Photo: Marcel Finnigan
---
DESTINATION GOLF IN THE COLUMBIA VALLEY/PURCELL MOUNTAINS
---
PANORAMA
---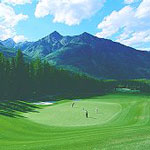 Greywolf Golf Course
1860 Greywolf Dr
Panorama, BC
Toll Free Booking Line: 1-888 473-9965
Phone: (250) 341-4100
Email: greywolfadmin@intrawest.com
Website:www.greywolfgolf.com
Golf Digest (2005) voted this Doug Carrick designed, 18 hole golf course as the "best course in BC" and one of the "Top 100 Courses in the World Outside the U.S."!
---
ALBERTA GOLF: MARRIAGE TO A TEE
Interested in learning about someone's personal experiences on various courses in Alberta? Here is a nice little article that will give you an idea about what it is like to golf here in Alberta.
---