Insider Tip: Mistaya Canyon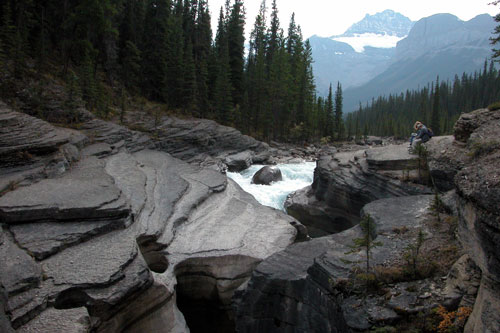 Picture Yourself Here at Mistaya Canyon
Marcel Finnigan



INSIDER TIP
MISTAYA CANYON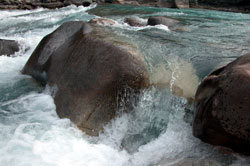 Water Rushing over Rock
Now in the Mistaya Valley, you will come upon its beautiful canyon, just 31 km/19 mi north of Peyto Lake. For those of you who have the time, you can hike down into the pretty canyon. Bring your camera and take advantage of some magnificent views of this river (carrying the same name!) flowing through this beautiful valley. Discover the fascinating twists and turns the waters take as they cut into the age old limestone. The power of water is simply amazing.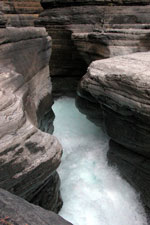 Water Cutting
This is evident from the sound. Have you ever heard anything like it before? Imagine where the waters have been and where they will go! What will this canyon look like in 40 years? Wouldn't you like to find out? Take a break, write a couple postcards and breathe in the fresh mountain air!!
For those of you interested in etymology (like my wife!), the word "Mistaya" is the native Stony word for "much wind" and not "grizzly bear", as widely believed. (Place Names in the Canadian Rockies by Boles, Laurilla, & Putnam., Pg 200.)
I would like to warn you about the dangers of wet rock. Even if the rock doesn't appear to be wet (or too wet), it is from the constant water spraying upwards from the sheer force of the water. Wet rock is extremely slippery and unlike other canyons here in the Rockies, this canyon does not have railings to protect you. Please be very careful when walking on rock - no matter how good that one shot might be in your photo album, it is not worth your life. If you have children and have chosen to take them to this canyon, do not let them out of your site and if they are young, do not let go of them. (Johnston Canyon, Athabasca Falls, Natural Bridge or Maligne Canyon all have railings and are more suitable for a family experience. Always be cautious here in the mountains and know the risks involved.



Water Falling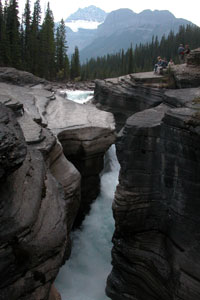 In the Depths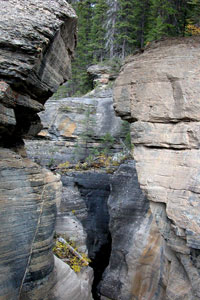 In the Past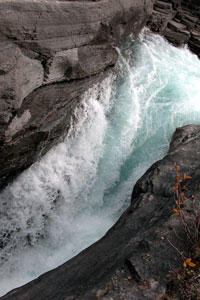 White Foam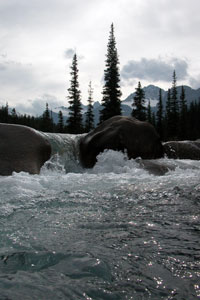 Silhouette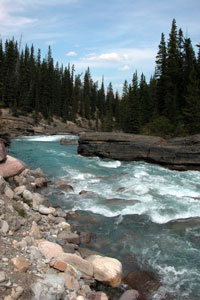 Mistaya River
Return from Insider Tip Mistaya Canyon
to Via Bow Valley Parkway