Self-Drive Vacation Package
Canadian Rockies to the Pacific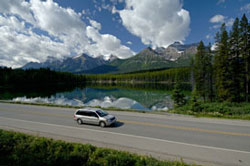 Driving the Icefields Parkway
Photo by Scott Rowed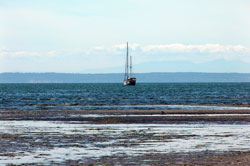 The Pacific
Photo by Leanne Boytinck
CANADIAN ROCKIES TO THE PACIFIC
8 days /7 nights, Eastbound or Westbound - your choice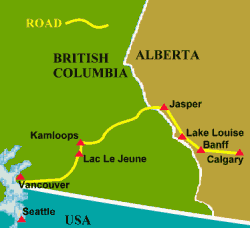 Canadian Rockies - Pacific Route
On this 7-night self-drive tour package you will follow in the footsteps of the Rockies' first explorers as you travel from towering mountain peaks to the Pacific coast. You will see such a variety of sites; everything from high mountain ranges, glacial lakes, rolling ranch country and coastal rain forests, as well as the lively cities of Calgary and Vancouver. Whether you choose to travel eastbound or westbound, your route through scenic Western Canada will be memorable and at your own pace in your own vehicle.





THIS PACKAGE INCLUDES:
7 nights accommodation – 1 night in Vancouver, 1 night at Lac Le Jeune, 1 night in Jasper, 1 night in Lake Louise, 2 nights in Banff, and 1 night in Calgary
8 day mid size car rental **
1 dinner
Admissions to the following: Calgary Tower, Cave and Basin National Historic Site, Banff Gondola, Banff's Upper Hot Springs, "Ice Explorer" ride on the Athabasca Glacier, photograph at the Columbia Icefield, Calgary Heritage Park, Hell's Gate Air Tram and Minter Gardens (Vancouver)
Hotel porterage
National Parks passes
Self-drive routing, maps and itinerary with general information package
All taxes
DAY 1 CALGARY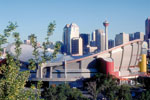 Calgary Skyline
Travel Alberta
Pick up your rental vehicle in Calgary. Established in 1875, the city's population is now over a millon and it is one of the fastest growing cities in Canada. Today you can look around the city; go up the Calgary Tower or visit Heritage Park (admissions included). There are many other attractions (not included) such as: the Calgary Zoo, Glenbow Museum, Fort Calgary, Telus Science Centre (great for kids too), football games, strolling along the Bow River, trendy restaurants & great shopping.
DAY 2 BANFF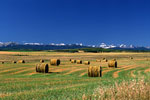 Into the Mountains
Travel Alberta
Enjoy the 2-hour drive from Calgary to Banff. Leave the busy city and embark on a trip through the rolling foothills of the Rockies on the Trans-Canada Highway. Another option is to take exit 161 for HWY-22 N toward Cochrane and turn left onto Highway 1A. This option allows you the more scenic route along the Bow River which may give you an opportunity to catch a glimpse of some big horn sheep and other wildlife. This route is only a two lane highway and narrow at points but has some truly beautiful views.

DAY 3 BANFF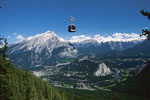 Banff Gondola
Courtesy Brewsters
No travelling today, but rather time to explore Banff and everything it has to offer. In the Banff townsite you have a mix of everything a visitor could ask for. The cafes and restaurants serve up some great food and the museums and galleries are really unique. The little shops always have those special little treasures to bring back home. Visit the place that started it all over 100 years ago at the Cave and Basin National Historic Site and go for a ride up Sulphur Mountain on the Banff Gondola for the most amazing panoramic view. End your day with a soak in the hot mineral pools at the newly-renovated Banff Upper Hot Springs.

DAY 4 LAKE LOUISE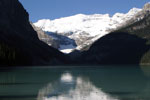 Lake Louise
Michael Jennek
Make your way from Banff up to Lake Louise, a picturesque 40-minute drive. You can take the Trans Canada Highway, also known as the Number 1, the whole way or turn off and take the Bow Valley Parkway which follows the Bow River for a beautiful scenic route. Make a stop at Johnston Canyon for an easy hike. Walk the catwalks and feel the spray of the lower falls before continuing on to Lake Louise. Take the afternoon to enjoy the two glacial-fed mountain lakes, both within close proximity, considered to be the jewels of the Rockies, Lake Louise and Lake Moraine.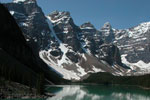 Moraine Lake
Michael Jennek
You decide which is your favourite with their stunning aqua-green colour! You can even rent a canoe! Take a break at the famous Fairmont Chateau Lake Louise and have a bite to eat. The views from the hotel are breathtaking. If you still have time (Alberta summer days are long!) you can drive into Yoho National Park - another one of the mountain parks which has been designated as a UNESCO World Heritage Site!

DAY 5 JASPER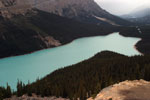 Peyto Lake
Michael Jennek
Today you will travel down one of the most scenic highways in the world from Lake Louise to Jasper along the famous Icefields Parkway. (For a more detailed account of the drive up the Icefields Parkway click here. ) The views are amazing and the lakes are stunning. You won't want to put away your camera! Stop and stretch your legs as you go for a self-guided interpretive walk at Peyto Lake. This glacier-fed lake has the most amazing colour and looks like the head of an animal that lives here in the Canadian Rockies. Do you know which one?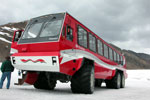 Ice Explorer
Marcel Finnigan
Once you reach the Columbia Icefield Visitor Centre, located in Jasper National Park, you have the chance to experience a glacier firsthand. Ride onto the Athabasca Glacier onboard a Brewster's Ice Explorer and get your photograph taken (both included). If you are hungry there are also dining faciities located at the Columbia Icefield Visitor Centre. Continue on to the townsite of Jasper, located in the beautiful Athabasca Valley.

DAY 6 LAC LE JEUNE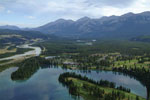 Athabasca Valley
Courtesy Jasper Park Lodge
The drive today takes you from the mountainous terrain of Jasper to the flat grasslands of Kamloops, British Columbia. You will drive by Mount Robson Provincial Park located in the BC Rockies and see the peak of Mount Robson - the highest in the Canadian Rockies at 12,972 feet (3954 m). Your dinner at your hotel this evening is included in your package.


DAY 7 VANCOUVER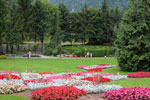 Minter Gardens
Leanne Boytinck
Today you will continue your journey westwards from Kamloops through the Fraser Canyon to vibrant Vancouver. You will notice the arid desert-like characteristics of BC's interior stand in great contrast to the lushness of the Fraser Valley and the snow-capped coastal mountains. Visit Hell's Gate Air Tram and Minter Gardens which are both included in your package! Enjoy your time in this remarkable city and visit Stanley Park, Gas Town or the Vancouver Aquarium and dine at one of the many trendy restaurants.

Are you happy with the above package? Or would you like to spend a couple days in Banff, Jasper, or Vancouver? If you have more time for this self-drive package and would like some changes, just let us know!